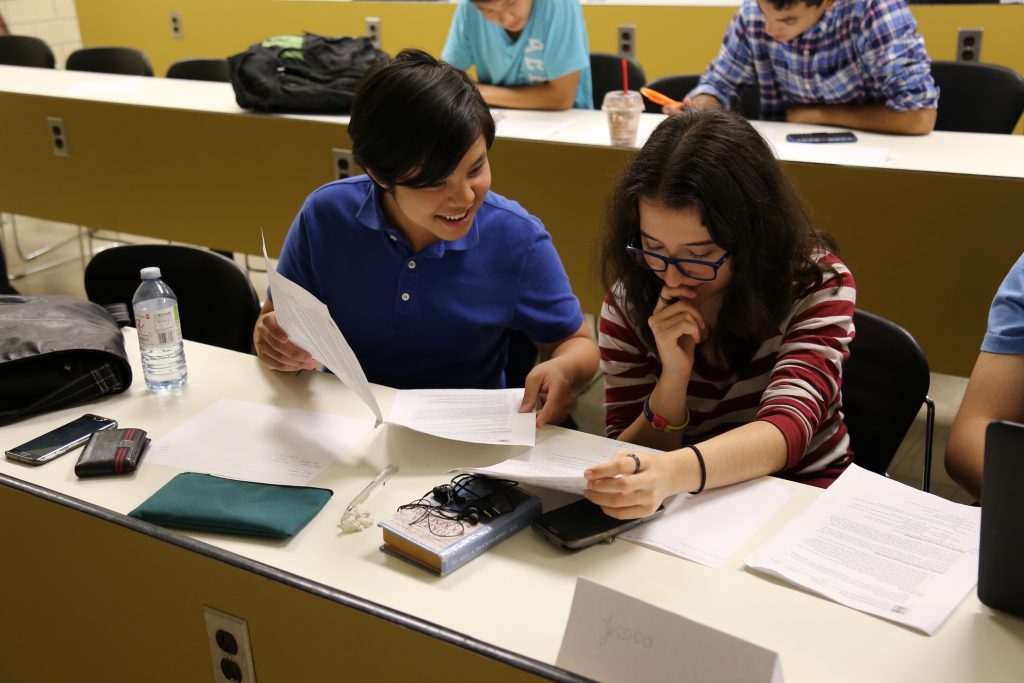 The Engineering Outreach office is excited to introduce a series of Math Preparation Courses for high school students this summer 2017. Each course has a recommended grade level (ex. Preparation for Math 10 is recommended for students who recently completed grade 9). Details on the course, dates, pre-requisites, and grade level can be found in the course descriptions.

Registration:
To register for the Preparation Math Courses, please click here.
Summer 2017 Courses
Math FUN-damentals
Understanding and using mathematics is becoming increasingly important for entrepreneurs, scientists, and engineers. From understanding how slopes can cause architectural marvels or mayhem, interpreting real scientific data to avoid natural disasters and cure diseases, to maximizing profit and minimizing risk. Students will explore how math is used everyday in specialized areas such as pharmaceutical research and development, mechanical engineering, and finance.
Audience: recommended for grade 9 and 10 students (2016-2017)
Pre-requisites: Principles of Mathematics, Grade 9, Academic (MPM1D)
Dates: July 4 – 7
Time: 9:00am – 4:00pm
Cost: $400

Preparation for Math 10
This brief introduction to Grade 10 Academic Level Mathematics, enables students to broaden their understanding of real-world relationships, enhance their problem-solving and algebraic skills through investigation, the effective use of technology, and abstract reasoning. Students will explore quadratic/parabolic relations and their applications, solve and apply linear systems, and investigate and solve problems using analytic geometry and trigonometry. Students will reason mathematically and communicate their thinking as they solve multi-step problems. Topics, lessons, and problem sets are directly linked to the Grade 10 academic math Ontario curriculum.
Audience: recommended for grade 9 students (2016-2017)
Pre-requisites: Principles of Mathematics, Grade 9, Academic (MPM1D)
Dates: July 10 – 14
Time: 9:00am – 4:00pm
Cost: $475

Preparation for Math 11
This course introduces the mathematical concept of the function by extending students' experiences with linear and quadratic relations. Students will investigate properties of discrete and continuous functions, including trigonometric and exponential functions; represent functions numerically, algebraically, and graphically; solve problems involving applications of functions; investigate inverse functions; and develop facility in determining equivalent algebraic expressions. Students will reason mathematically and communicate their thinking as they solve multi-step problems. Topics, lessons, and problem sets are directly linked to the Grade 11 University Math (Functions) curriculum.
Audience: recommended for grade 10 students (2016-2017)
Pre-requisites: Principles of Mathematics, Grade 10, Academic (MPM2D)
Dates: July 17 – 21
Time: 9:00am – 4:00pm
Cost: $475

Introduction to Calculus
Calculus is the mathematical magic that we use to explore the galaxy, land probes on Saturn, probe the mysteries of the atom, and unleash artificial intelligence. It is understanding big phenomena by breaking it down into tiny bits, and also about starting with tiny bits to build big things. In this interactive introduction to Calculus, we will get a feel for how the magic works in its two great forms: Differentiation (from big to small), and Integration (from small to big). By the end of this course, I hope you will feel the delightfully unlimited potential of magic in mathematics–which is Calculus.
Audience: recommended for grade 11 students (2016-2017)
Pre-requisites: Functions, University Preparation (MCR3U)
Dates: Three 2-day sessions available, July 22 – 23; July 29 – 30; or August 12 – 13
Time: 9:00am – 4:00pm
Cost: $200