In-Person STEM Enrichment Courses
The STEM Enrichment Courses aim to challenge and excite highly-motivated students from grades 9 through 12 in various areas of STEM (Science, Technology, Engineering, and Math). Led by upper-undergraduate and graduate engineering students, participants explore advanced engineering topics and a range of projects engineers work on in order to build a better society.
These courses are offered for participants who are currently in Grades 9 to 12 (2021-2022 school year).
Each course will run for four Sundays.
March 6, 13, 20 & 27.
All times are in Eastern Daylight Time. (EDT) (UTC-4). 
This program is offered in person on the St. George Campus at the University of Toronto. Please read our in-person health and safety protocols before you register.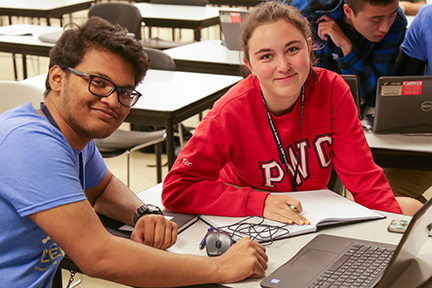 Planes, trains and automobiles…transportation is shaping the world around us in a way not seen before. We can't simply just be along for the ride; our environment, the economy and our well-being depend on our ability to understand the science and engineering that shape transportation. Grounded in the engineering design cycle, this introductory course will challenge students to think and explore transportation in ways that perhaps they haven't before.  Kinematics, aerodynamics, applied physics and applied mathematics are all areas that will be called upon to understand the way that air flows around our vehicles. 
March 6, 13, 20 & 27 from 2:30 PM - 6 PM, with a half-hour break.
Waitlist in place
During this interactive Python course for beginners, students will dive into the basics of Python, build their skill set, and create a game. This course is intended for students with little/no prior coding experience. You will learn about variables, data types, conditional statements, and much more! This course is excellent preparation for future courses that may require coding experience.
March 6, 13, 20 & 27 from 10 AM - 1:30 PM, with a half-hour break.
Waitlist in place
How can we engineer our environment to sustainably support life? Earth's resources are consumed much faster than they can be replenished. With predictions that the world's population will grow to 9.8 billion by the year 2050, it's clear that the time for solutions is now and we MUST act. From technological design to economics, this course will explore increasingly relevant and interdisciplinary concepts in sustainability. With an appreciation for the complex nature of this field of study, students will have the opportunity to use engineering design principles to develop and propose solutions that address this global catastrophic risk.
March 6, 13, 20 & 27 from 10 AM - 1:30 PM, with a half-hour break.
Biomedical Engineering sits at the intersection of engineering and medicine, and demands that engineers and scientists work together to solve global health issues. Human-donor organs are a scarce resource that are increasingly in demand. In this course, students will learn about the use of tissue engineering, stem cells, and transplantation therapies in order to gain a scientific understanding of artificial organs. Through a series of simulations, students will learn how to generate hypotheses, perform complex analyses and communicate their findings confidently to their fellow budding engineers.
March 6, 13, 20 & 27 from 2:30 PM - 6 PM, with a half-hour break.
Limited spaces available
Provided there is not any overlap in the schedule - yes!
Yes, you can! However, it is advised that you do not register for the same course that you participated before, as it will cover very similar content. 
THE 5 THINGS YOU NEED TO KNOW ABOUT HEALTH AND SAFETY FOR IN-PERSON PROGRAMMING
General Information for our Programming
Waitlist:
If you see that a course is waitlisted on the registration page, that means there are no available spaces. If a space opens up in the course, those on the waitlist will be notified immediately in the order that they registered.
Creating an Active Account:
If this is your first time registering for one of our programs, you will be prompted to create an Active account as you register. If you are successful in getting a spot in the workshop, your spot will be held for you as you complete the registration form, so no need to rush.
Please note that it is not possible to create an account before the registration date.
Bursaries:
Bursaries are available to Canadian citizens, permanent residents and protected persons who demonstrate financial need. To find out more about our bursary application process and to apply, please click here.
Cancellation:
A refund or a credit, less a $50.00 administrative fee is available for cancellations received by 11:59 PM ET on
February 28, 2022.
Please submit your request to withdraw or cancel by writing an email with your reason to outreach@engineering.utoronto.ca. No refunds or credits will be issued after this point. Please note that this charge is to cover administrative processing fees.
Your health and the health of our community is important to us. In light of circumstances around assessing symptoms, refund requests for in-person programs that are received after the date listed above, will be assessed on a case-by-case basis.
Thank you for your understanding!
Join the Mailing List
Be the first to know about registrations, new programs and important dates!