ENGage High School Saturday Program
The ENGage High School Saturday Program is a mentorship program for Black high school students interested in learning more about STEM. This is a community-building program that will encourage students to not only develop their academic skills in science and engineering but also gain and further develop valuable life skills. We hope that through this experience the students become lifelong learners in the STEM fields.
Class size is limited to 25 students, including 15 Leadership Cohort spaces.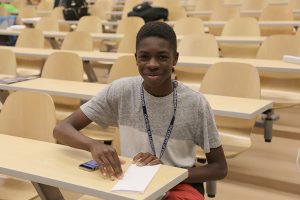 Leadership Cohort Spaces
A student registering for a cohort-space must attend all Saturday sessions. The benefits of being a part of the Engage High School Saturday Leadership Cohort include a possible work placement in the University of Toronto Engineering Outreach Office during the summer and/or on PA days.
All sessions will run virtually from 10:00 A.M. to 1:00 P.M
Dates & Session Descriptions
Winter 2021 Dates:
Session One, The Bricks Behind the 6ix
Saturday, January 23, Saturday, February 6
Perplexed by public transport delays?  Curious as to what makes the CN Tower so iconic beyond its scope and stature? Tap on to this course, and wonder no more! We will expose students to the inner workings of city and infrastructure planning. Students will learn about the qualities behind the common materials and techniques used in modern civil engineering, and hypothesize as to how both existing and future cities can be made more resource-efficient, brick by brick.
Session Two, Python and Coding
Saturday, February 20, Saturday, March 6
Data has become the world's new currency. The real value of collected data lays in how it is analyzed and later interpreted. Modern tools have allowed us to gain insights into analytics at a rate and scope previously unavailable prior to the silicon age. In this course, you will learn to use the raw power of modern computers and coding with languages such as Python to sort and analyze data quickly and efficiently, and present it in a logical and neat manner.
Session Three, Atomic Physics
Saturday, March 20, Saturday, April 10
Atoms constitute the very foundation of our universe, and in doing so, are key to understanding the way it works. While atoms hold an awe-inspiring amount of power within, that power is futile if we don't learn how to safely and efficiently utilize it. In this course students will learn the key tenets of nuclear physics, from what makes the elements in our world different from each other to how we hope to safely use our knowledge of atomic physics to better our society, such as nuclear fusion.
Cost
Cohort Pricing:
All Sessions: $90 ($15 per class)
Regular Pricing:
Per Session: $40 ($20 per class)
Bursary Information
If the fees for this program create a financial barrier, please consider applying for an Engineering Outreach Bursary. You are eligible to apply if you are a Canadian citizen, permanent resident or protected person with demonstrated financial need. If you would like to apply for a bursary, please contact our office prior to registration for your next steps.
When you are applying for a bursary please use the coupon code BURSARY2021 at the check-out screen to bypass payment.
How to apply:
Register for the program you would like to attend and use the coupon code BURSARY2021 
Download and complete the bursary application form and submit the completed form along with your most recent Notice of Assessment to the email outreach@ecf.utoronto.ca
Once the forms have been submitted to us, we will contact you with the results of bursary in the following weeks prior to the start of the program. Please note that if you are on a waitlist or have not registered for a course, your bursary application will not be assessed.
For more information, please contact us at: outreach@engineering.utoronto.ca.
Due to COVID-19 protocols, we are operating outside of the office, so we are unable to answer any phone calls. Please contact via email only.
If you have questions about the Engage High School Saturday Program,
Contact us at outreach@engineering.utoronto.ca