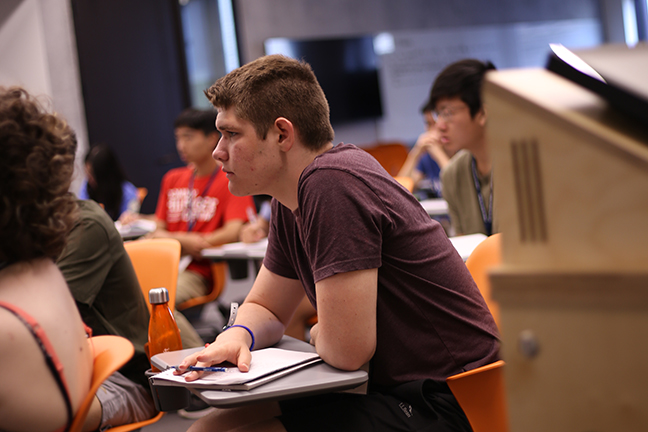 PROGRAM DESCRIPTION
Virtual Study Hubs provides a quiet, community-oriented space for students to work on assignments and prepare for tests and exams. Each study group is led by a mentor who will guide students in developing SMART goals, productivity techniques, and effective study strategies. At the beginning of each session, students will set an academic goal to achieve over the next two hours. Mentors will help students reflect on these goals and offer academic resources to help improve the quality of students' learning.
PROGRAM FORMAT
Virtual Study Hubs are sectioned by grade and topic. Online sessions will be held twice a week either on Wednesdays and Saturdays, or Thursdays and Sundays. Students are expected to come prepared with questions, homework, or assignments to work on during their online session.
Virtual Study Hubs are limited to 20 students per section.
Registration is now closed.
Quadmester 3
Wednesday, February 17, 2021 to Thursday, April 8, 2021
*No sessions during - Easter Break: Friday, April 2 - Monday, April 5, 2021
Please note: The workshop provides a space for students to work on their Quadmester 3 curriculum. As such, we highly recommend that you focus on your Quadmester 3 courses when deciding which session to register for.
| Session Name | Start Date | End Date | Live Session Times |
| --- | --- | --- | --- |
| Academic Science — Gr. 9 | February 17, 2021 | April 7, 2021 | Wednesday, 6 PM–8 PM & Saturday, 4 PM–6 PM |
| Academic Science — Gr. 10 | February 17, 2021 | April 7, 2021 | Wednesday, 6 PM–8 PM & Saturday, 4 PM–6 PM |
| Academic Math — Gr. 9 | February 18, 2021 | April 8, 2021 | Thursday, 6 PM–8 PM & Sunday, 4 PM–6 PM |
| Academic Math — Gr. 10 | February 18, 2021 | April 8, 2021 | Thursday, 6 PM–8 PM & Sunday, 4 PM–6 PM |
| Advanced Functions/Calculus & Vectors | February 17, 2021 | April 7, 2021 | Wednesday, 6 PM–8 PM & Saturday, 4 PM–6 PM |
| Functions | February 17, 2021 | April 7, 2021 | Wednesday, 6 PM–8 PM & Saturday, 4 PM–6 PM |
| Physics — Gr. 11/12 | February 18, 2021 | April 8, 2021 | Thursday, 6 PM–8 PM & Sunday, 4 PM–6 PM |
| Chemistry — Gr. 11/12 | February 18, 2021 | April 8, 2021 | Thursday, 6 PM–8 PM & Sunday, 4 PM–6 PM |