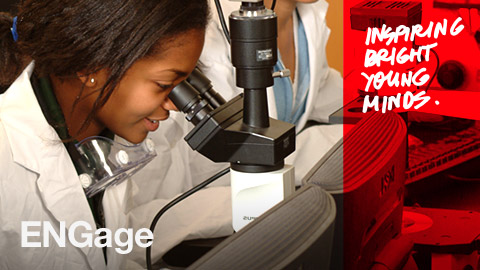 ENGage participants take part in a range of hands-on science, technology, engineering and mathematics (STEM) activities. Students also develop their teamwork and leadership skills. A collaboration between U of T's Chapter of the National Society of Black Engineers and the Faculty of Applied Science & Engineering, ENGage highlights black role models, encourages STEM literacy and promotes academic and social growth.
ENGage will run for one week in the summer.

The program is designed for black students who are currently in grades 3 to 8 (2019-2020 school year).
Program at a glance:
Date: July 6th, 2020 – July 10th, 2020
Time: 9 am to 4 pm
Supervision: We offer supervision from 8 to 9 am and 4 to 5 pm at no additional charge.
Cost: $100
If you are applying for a bursary, please use the coupon code BURSARY at check out and be sure to send in the required documents ASAP.
Location: University of Toronto, St. George Campus (College and St. George)
More information: 416-946-0816 or outreach@ecf.utoronto.ca
Activities:
Leadership Development
Campers will participate in leadership development training geared towards preparing students to become more involved in school, community and extracurricular activities. Students will develop skills related to initiative, communication, confidence, organization, facilitation, teamwork, goal setting, advocating for change and making a difference in the lives of others.
Science & Engineering
Participants will engage in exciting design projects and challenging science experiments, gaining an appreciation of a diverse array of academic and career options. Areas of inquiry include biology, chemistry, physics, and various sub-disciplines of applied science, including electrical, chemical and civil engineering.
Athletics & Enrichment Activities
ENGage will also offer a number of opportunities for students to participate in sports and games in a supportive, non-competitive environment.

Registration for the Jr. DEEP, Jr. DEEP Coding, Girls' Jr. DEEP, and ENGage will be opening soon! 
To receive notifications regarding upcoming programs, click here to join our mailing list.