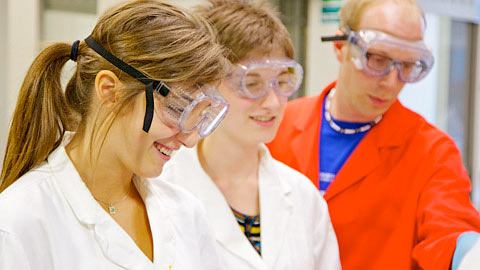 Our Engineering High School Saturdays Program encourages students to begin to explore science, engineering, math and technology in a community-oriented, confidence-building environment. Classes are divided by grade. Registration for Session One and Two are separate. Participants do not need to register for both sessions. Please read the course descriptions carefully to see which courses are offered to which grade group. Each session takes place over the course of three Saturdays and participants will spend all three days in the same course.
Please note that our Engineering High School program does not offer an in-depth investigation of a single-topic area. Motivated students interested in condensed study in a particular discipline should consider our DEEP Summer Academy program.
All classes run from 1:00pm to 4:00pm, with a short break at the halfway point at the instructor's discretion. Students are welcome to arrive from 12:30pm onwards.
We will send you more information about the location and schedule via a pre-program package sent to all participants at least 1 week prior to the start of the program.
Winter 2020 Dates:
Session One | Saturday, January 18th, January 25th, February 8th
Session Two | Saturday, February 22nd, February 29th, March 7th
Cost:
$180
Schedule:
12:30pm – 1:00pm | Drop-off/Registration (only on first Saturday)
1:00pm – 4:00pm | Program time
4:00pm  | Dismissal (participants are dismissed directly from class)
To register for the Engineering High School Saturday Program click here! 
*Please note that registration will open Tuesday, December 17th at 7:00AM Eastern Time.
---
Winter 2020 Courses
Becoming a Future Bridge Engineer
Mankind started to build bridges centuries ago, from using the most simple natural resources like wooden logs, to utilizing modern materials like iron, stainless steel, and concrete. Meanwhile, bridge-building techniques and processes are continuously evolving and being upgraded. In this course, students will be introduced to the structure and design of bridges, both past and present; along with understanding the engineering principles behind every bridge shape. By the end of this course, students will have the chance to construct  their own bridge and test their creation's ability to withstand various loads. This course is a great fit for students who enjoy hands-on activities and it will equip them with the fundamental knowledge of what it is like to be a civil engineer.
Session One |Grade 9-10
Saturday, January 18th, January 25th, February 8th 
Session Two |Grade 11-12
Saturday, February 22nd, February 29th, March 7th
Plastic Pasta
Think about everything you know about plastic. From making up the Pacific Garbage Patch, to destroying ecosystems, plastics are often associated with being one of the primary pollutants on our planet. However, that really isn't all there is to plastic. Interestingly, they resemble spaghetti on a microscopic level and can end up inside your body due to bioaccumulation. This course will take you on an amazing journey to explore plastics under a new lens. Consisting of hands-on activities derived from short lectures and presentations, this course is a bridge to diverse potential topics such as chromatography and fluid dynamics simulations. You will leave the course with a brand new perspective of plastics, what they are used for, and the impact they have on everything around us. 
Session One |N/A|

Session Two |Grade 9-10
Saturday, February 22nd, February 29th, March 7th
Decoding the World of Data
Ever wonder how Instagram and Facebook generate millions of dollars despite being free? Or, how hospitals store and retrieve information about patients so easily? The answer is data and the language that it speaks: SQL. From making billions of dollars to saving lives, the language of data is one of the most valuable things to learn in this day and age. Now it's your turn to speak this language. By learning the basics of SQL programming, you will uncover how to manage big data and you will equip yourself with the tools to handle your own database and extract very specific concepts from large amounts of information. Whether it be for structuring data for apps like Uber, or storing data for your own company, this course will expand your knowledge when it comes to the fundamentals of query processing and data retrieval.
Session One |Grade 11-12
Saturday, January 18th, January 25th, February 8th 
Session Two |Grade 9-10
Saturday, February 22nd, February 29th, March 7th
Design & Data
Many products that require users to interact with them, such as smartphones and social networking sites, have been designed primarily with the user in mind. Effective user interface design reduces potential negative aspects of using products, and enhances positive experiences for users. On the other hand, data analysis drives effective decision-making, and can greatly increase business productivity and consumer satisfaction. Analyzing data allows corporations to understand market demands in order to develop improved products and services for their users.
This course will bridge the fundamentals of UI/UX design and data analysis with a focus on real-world engineering and business applications for product development. The first half of the course will allow students to design mock-ups, wireframes, and user interface prototypes using Adobe XD and Figma. The second half of the course will teach students the fundamentals of VBA, SQL, and Power BI to analyze, visualize, and present data. By the end of the course, students will understand key factors in user satisfaction while creating a product of their own.
Session One |Grade 9-10
Saturday, January 18th, January 25th, February 8th 
Session Two |Grade 11-12
Saturday, February 22nd, February 29th, March 7th
---
Bursary Information
If the fees for this program create a financial barrier, please consider applying for an Engineering Outreach Bursary. You are eligible to apply if you are a Canadian citizen, permanent resident or protected person with demonstrated financial need. If you would like to apply for a bursary, please contact our office prior to registration for your next steps.
When you are applying for a bursary please use the coupon code BURSARY at the check-out screen to bypass payment.
How to apply:
Register for the program you would like to attend and use the coupon code BURSARY 
Download and complete the bursary application form and submit the completed form along with your most recent Notice of Assessment to the email outreach@ecf.utoronto.ca
Once the forms have been submitted to us, we will contact you with the results of bursary in the following weeks prior to the start of the program. Please note that if you are on a waitlist or have not registered for a course, your bursary application will not be assessed.
For more information, please contact us at: outreach@ecf.utoronto.ca or (416) 946-0816.