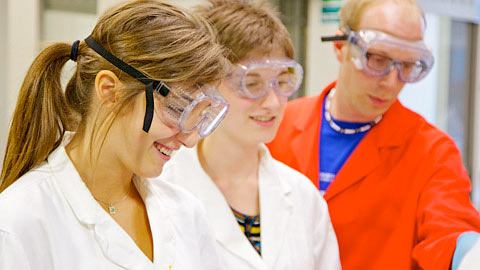 This Program is not currently being offered at this time.
High School Saturday Program encourages students to begin to explore science, engineering, math and technology in a community-oriented, confidence-building environment. Classes are divided by grade. Registration for Session One and Two are separate. Participants do not need to register for both sessions. Please read the course descriptions carefully to see which courses are offered to which grade group.
Please note that our Engineering High School program does not offer an in-depth investigation on a single-topic area. Motivated students interested in condensed study in a particular discipline should consider our DEEP Summer Academy program.
All classes run from 1:00pm to 4:00pm, with a short break at halfway point at the instructor's discretion. Students are welcome to arrive from 12:30pm onwards.
Past Course Examples
Mathematical Reasoning in Game Theory
This course enhances students' logical, deductive, and creative thinking by introducing them to mathematical concepts such as logic gates, quantifiers, and how to make coherent mathematical proofs. This course will also delve into Game Theory. Students will learn how to apply their knowledge in the real world through puzzles, and how to optimize the solution sets for each problem.
Session 1 Grade 11 & 12
Session 2 Grade 9 & 10
Forensic Engineering: Investigating & Communicating Failure
Despite best engineering practices, fires, structural collapses, and devastating collisions are still a reality. Serving as forensic engineers in this course, students will investigate large-scale accidents, diagnose the factors behind these failures, and communicate findings with both experts and the public. Students will develop an understanding of forensic engineering concepts, specifically learning how to conduct fire, aircraft and collision-related investigations. Students will also develop science communication skills by conducting research and communicating their findings effectively in both written and oral forms. Students will apply these concepts to actual case studies, and through their analysis, propose solutions to mitigate future catastrophes.
Session 1 Grade 9 & 10
Session 2 Grade 11 & 12
The Science of Moving People & Things 
Have you ever wondered why highways are always so jammed in the morning? This course will examine the mechanics of vehicles and city planning through interesting and unconventional math, physics, and engineering principles. Students will use these strategies to help develop a sustainable city that maximizes the efficiency in transportation, optimizes city expansion, all while considering environmental, social and economic impacts.
Session 1 Grade 9 & 10
Session 2 Grade 11 & 12
Genetics and its Applications 
Is commercial DNA sequencing worth the risks? What kind of information can it reveal, and what are the ethical concerns behind it? In this course, students will explore what the field of genetics has to offer. Students will discover how vulnerable our genes are, and what happens when they mutate. They will learn about the genetic flow of microbiological organisms, and how they can affect us. Students will touch on bioinformatics and cutting-edge biotechnology including DNA fingerprinting, CRISPR, and NextGen sequencing. By the end of the course, students will understand how scientists and engineers have been using genetics to improve our lives, and some of the ethics and controversies that need to be considered.
Session 1 Grade 11 & 12
Session 2  Grade 9 & 10 
Engineering Economic
In this course, students will analyze the valuation of famous engineering projects, appropriate principles of mathematics, and the ethics of engineering design in a globalized world. With practical consideration of depreciating material value and the impact of inflation in mind, students will hypothesize what the future of engineering and technology in a market-driven world may look like. The sessions will combine discussion-based activities and team work, as well as short presentations. Each day will conclude with exposure to topics of multi-disciplinary significance, inviting students to debate various positions in a safe and constructive environment.
Session 1 Grade 9 & 10
Session 2 Grade 11 & 12
---
For more information, please contact us at: outreach@ecf.utoronto.ca or (416) 946-0816.