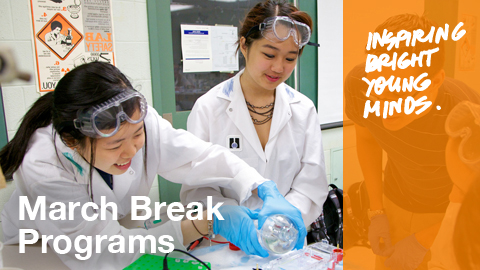 UPDATE: Information on Coronavirus (COVID-19)
March 13, 2020
The University of Toronto has been closely monitoring the spread of the coronavirus pandemic (COVID-19). In consultation with public health authorities across the province, we have cancelled our March Break programming (originally scheduled for March 16–21) to limit discretionary person-to-person contact during this critical period. To learn more, we encourage you to read the University's Provostial advisory here.
Please be assured that we share your disappointment in the cancellation of our programs. This decision was made to safeguard the health of our students, staff, and faculty, as well as our neighbours in the community at large, and all of our guests. Credit towards future programming will be issued to any March Break registrants. Alternatively, refunds will be offered (minus the processing fee) if requested. We will be updating participants and their support people with the latest information regarding our programs by email, as well as updating the Engineering Outreach website.
We are grateful for your understanding — and we look forward to hosting you on campus as soon as we can!
---
One of our most popular and longest-running summer programs is back for March Break 2020! Jr. DEEP at March Break is a week-long program that explores a world of science and engineering through enriching activities for curious young minds. This year's program will introduce campers to some of our most exciting hands-on activities while diving into brand new interactive workshops. Our instructors are undergraduate students in science and engineering disciplines.
Grades:
Grade 3/4, Grade 5/6, Grade 7/8
Dates:
March 16th – March 20th, 2020
Cost:
$290.00 CAD
Jr. DEEP March Break Program Details
Schedule:
8:00am – 9:00am | Drop-off/Registration
9:00am – 4:00pm | Program time
4:00pm – 5:00pm | Pick-up
Location:
University of Toronto St. George Campus
*A pre-program package will be sent to all participants roughly 1 week prior to the start of the program with more details.
General Information
Program registration will open on Wednesday, February 26th@ 7:00AM ET
Waitlist
If you see that a course is waitlisted on the registration page, that means there are no available spaces. If a space opens up in the course, those on the waitlist will be notified immediately in the order that they registered.
Bursary
If the fees for this program create a financial barrier, please consider applying for an Engineering Outreach Bursary. You are eligible to apply if you are a Canadian citizen, permanent resident or protected person with demonstrated financial need. If you would like to apply for a bursary, please contact our office prior to registration for your next steps.
When you are applying for a bursary please use the coupon code BURSARY at the check-out screen to bypass payment.
How to apply:
Register for the program you would like to attend and use the coupon code BURSARY
Download and complete the bursary application form (Form can also be found on our website) and submit the completed form along with your most recent Notice of Assessment to the email outreach@ecf.utoronto.ca
Once the forms have been submitted to us, we will contact you with the results of bursary in the following weeks prior to the start of the program. Please note that if you are on a waitlist or have not registered for a course, your bursary application will not be assessed.
 Cancellation Policy
Any cancellations made between the time of registration and 1 (one) week before the start of the program are eligible for a refund minus $50 administrative fee.
Any cancellations made within 1 (one) week of the start of the program are not eligible for a refund.
Thank you for your continued support of U of T's Engineering Outreach programs. If you have any questions or concerns please feel free to contact us and we would be more than happy to help.
We look forward to seeing you on campus this March!
For more information, please contact us at: outreach@ecf.utoronto.ca or (416) 946-0816.