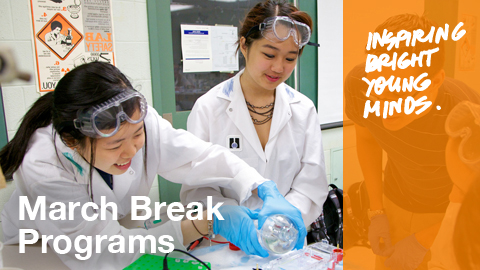 We are currently redeveloping our March Break programs and as a result will not be offering any March Break 2019 programming. For more information about upcoming programming, please sign up for our mailing list.
A summary of past program offerings can be reviewed below.
Jr. DEEP at March Break
Date: March 12 – 16, 2017 | 9:00 am to 4:00 pm |
Supervision from 8:00 to 9:00 am and 4:00 to 5:00 pm
Grades 3/4, Grades 5/6, Grades 7/8
Cost: $290
Jr. DEEP—one of our most popular and longest-running summer programs—is back for March Break! Jr. DEEP at March Break is a week-long program that explores a world of science and engineering through enriching activities for curious young minds. This year's program will introduce campers to some of our most exciting hands-on activities while diving into brand new interactive workshops. Our instructors are undergraduate students in science and engineering disciplines.
Leadership at March Break
Dates: Tuesday, March 13 – Thursday, March 15, 2018 | 9:00 am to 4:00 pm |
Grades 10/11
Cost: $175
DEEP Leadership at March Break is a three-day program that offers high school students the opportunity to explore personal leadership development through an integrated curriculum that includes practical applications drawn from STEM (science, technology, engineering and math) fields. Participants will explore topics in science and engineering through interdisciplinary activities. Participants will make connections between their own leadership development and exploring their interests in STEM fields.
Major topic areas include:
What is engineering and what do engineers do?
What is leadership? Is leadership important?
Design-thinking and the engineering design process
Exploring the role of science, technology and society
Professional skills development: presentation, communication and goal-setting
Building teams, working with others, developing persistence and resilience
Being a leader in your school and in your community; being a leader in STEM
Preparing for work and university
Interested students must submit a brief statement of interest (up to 500 words) that answers the question below:
"Please describe your goals for attending the DEEP Leadership at March Break Program and how it relates to your future goals"
Please note that the statement of interest is loaded as a separate document. You do not need to upload the document at the time of registration however it will be required in order to attend the program.
Engineering High School March Break Program
Dates: Tuesday, March 13 – Thursday, March 15, 2018 | 9:00 am to 4:00 pm |
Grades 9, Grade 10, Grade 11
Cost: $175
The Engineering High School March Break Program offers students in grades 9 to 11 the opportunity to learn from current University of Toronto Engineering Graduate and Undergraduate students. These courses are developed by our instructors to incorporate their own personal research and interests with the intention of delivering University style lectures with hands on learning. The March Break program is designed to expose students to a variety of different streams of Engineering.
Major Topic Areas include:
Biology and Biological Engineering
Civil and Environmental Engineering
Chemistry and Chemical Engineering
Aerospace Engineering
Physical Geography
Coding
Registration Reminders for March Break
Waitlist Information
If the program you selected is full you can still register for the waitlist. If a space becomes available in the course, those on the waitlist will be contacted immediately in order of their registration.
Bursary
If the fees for this program create a financial barrier, please consider applying for an Engineering Outreach Bursary. You are eligible to apply if you are a Canadian citizen, permanent resident or protected person with demonstrated financial need. If you would like to apply for a bursary, please contact our office prior to registration for your next steps.
When you are applying for a bursary please use the coupon code BURSARY at the check-out screen to bypass payment. Registration
How to apply:
Register for the program you would like to attend and use the coupon code BURSARY 
Download and complete the bursary application form(Form can also be found on our website)
Submit the completed form along with your 2016 Notice of Assessment to the email outreach@ecf.utoronto.ca
Once the forms have been submitted to us, we will contact you with the results of bursary in the following weeks prior to the start of the program. Please note that if you are on a waitlist or have not registered for a course, your bursary application will not be assessed.
Active Account
If this is your first time registering for one of our programs or you do not have an Active account, the Active website will prompt you to create one. Your spot in the course will be held so there is no need to rush through the Account Creation process!
Cancellation and Refund Policies
Registrations that are withdrawn or cancelled within two weeks of the program start date are eligible for a refund, less an administrative fee of $50.00.  Please submit your request to withdraw or cancel by email to outreach@ecf.utoronto.ca
The deadline to request a cancellation and receive a refund is Monday, February 26th
If you have any question, the Outreach Office is always ready to help. Contact our office at outreach@ecf.utoronto.ca or (416) 946-0816.
We look forward to seeing you!
Your Engineering Outreach Team
Engineering Outreach Office
Faculty of Applied Science & Engineering
University of Toronto
35 St. George Street, Room 173, Toronto, ON M5S 1A4
T: 416-946-0816   | outreach.engineering.utoronto.ca
Click here to opt-out of the Engineering Outreach Mailing List 
For more information, please contact us at: outreach@ecf.utoronto.ca or (416) 946-0816.