DEEP Summer Academy is designed for highly motivated high school students with an aptitude for science and math. DEEP provides students from around the world with the opportunity for advanced study in a variety of engineering, technology, business and science disciplines.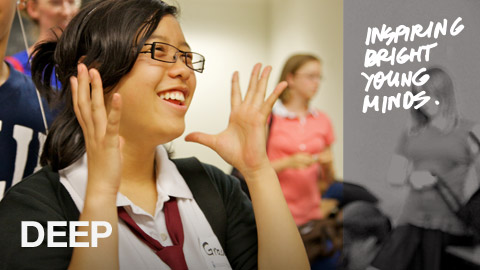 April 21, 2014 – 5:00 pm

-

Thank you for your interest in DEEP Summer Academy. The application deadline for DEEP has passed.

Organized by the University of Toronto's Faculty of Applied Science & Engineering, DEEP offers a diverse range of pre-university engineering and science courses.


DEEP Summer Academy will run from July 7 to August 1, 2014 at U of T's St. George Campus, located in downtown Toronto.

DEEP is open to students currently in grades 9 to 12.

The deadline to apply was April 21, 2014.

Inspiring Bright Young Minds
Since its inception in 2003, DEEP has brought together over 10,000 like-minded students to explore some of the most innovative topics in engineering and science today—taught by some of our faculty's top alumni, PhD candidates, and Master's and undergraduate students. The program is designed to expose bright young minds to concepts usually presented in the upper years of an undergraduate degree or in graduate school.
Get a head start on exploring your options for a university degree and career. Complement your current academic studies with this unique engineering experience.