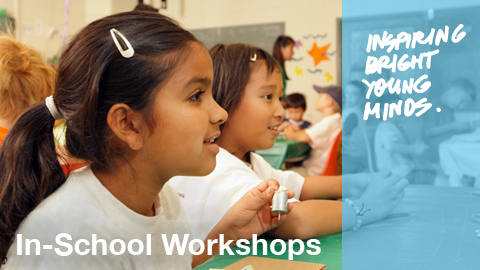 Leadership In-School Workshops
Science, Technology, Engineering & Math Workshops for Grades 3 to 8
The goals of our leadership workshops are to introduce participants to concepts in the sciences and engineering, while integrating elements of engineering design, leadership and peer support. These considerations are important to those interested in pursuing STEM at the post-secondary level, for developing STEM literacy, and in contributing to self-actualization in any setting.
These workshops connect engineering to the three overall expectations of the science program in Ontario:
1. to relate science and technology to society and the environment
2. to develop the skills, strategies, and habits of mind required for scientific and technological problem solving
3. to understand the basic concepts of science and technology
These workshops also draw on draw on Ministry guidelines for Leadership and Peer Support (GPP3O) to explore group dynamics, interpersonal relations, and communication, values, problem-solving and decision-making skills.
Workshop* Descriptions:
Extreme Roller Coaster Design Challenge
Students will work in teams to design, build, and test model roller coasters in a rapid prototyping session, while applying laws of physics, principles of design, budgetary considerations and client specifications.
STEM Connection: Mechanical Engineering

No Bones About It
Students will examine how components of the human skeleton come together to allow us to function in the ways we do. They will conduct an analysis using the bones of the body and prototype a solution to a biomedical challenge.
STEM Connection: Biomedical Engineering

Emergency Shelters
Students will create shelters for an emergency situation while testing their communication, teamwork and collaboration skills. Structures will be tested for stability and efficiency of their design in context. Students will work together to resolve challenges and explore priorities in a time of crisis.
STEM Connection: Civil Engineering

Toy Design
Students will look at the engineering design and innovation process on a smaller scale, examining all of the detailed decisions that must be made along the way and how they impact a final product.
STEM Connection: Mechanical Engineering and Industrial Engineering (Human Factors)

*Leader in Training (LIT) Format for Science Clubs and Youth Groups 
Each of the above workshops is also available on-request as a leader-in-training (LIT) style workshop for science clubs, teams, camps and other groups wishing to lead the activity in their school or community. A great team-building opportunity, participants will engage in the workshop content and learn how to facilitate STEM-based activities with younger audiences. The cost of these workshops may be subsidized for high needs schools and non-profit groups.
Workshops are available by request year-round.
Download the In-School Workshops brochure and registration form.
For more information, contact us at outreach@ecf.utoronto.ca or 416-946-0816.
---
Registration for 2019 In-School Workshops is now open!
Download the form to register:
Download the In-School Workshops brochure and registration form.
This year, we will offer workshops for grade 3-8 classes and groups in May and June of 2019.
Our workshops complement and expand on the Ontario science curriculum. Instructors use discovery-based activities to highlight topics in science, technology, engineering and math (STEM).
For more information, contact us at outreach@ecf.utoronto.ca or 416-946-0816.
Join our educator mailing list for program info and updates:
Inspire your students—book an In-School Workshop today!
Five easy steps to reserve a workshop for your class:
1. Download the In-School Workshops brochure and registration form
2. Select the workshop or workshops you would like your class to participate in. You can register multiple classes at the same time.
3. When completing your registration, be sure to indicate your contact and group information, your selected workshops and your requested event dates.
4. Submit your registration online or email your form to outreach@ecf.utoronto.ca.
5. A confirmation and invoice will be sent to you when your workshop has been scheduled.
Class Size
Each workshop is normally limited to a maximum of 30 students. If there are more than 30 students in your class, however, we will do our best to accommodate you. Please contact us at 416-978-3872 or outreach@ecf.utoronto.ca if your class has more than 30 students.
Cost
Booking In-School Workshops with other teachers in your school is the most cost-effective way to bring this enriching program to your classroom. Packages can be split among different grade levels and classrooms (maximum 30 students per workshop) within your school, but all workshops must occur on the same day.
School Package I: Full-Day | $1560
12 workshops @ 2.5 hours each
School Package II: Half-Day | $875
6 workshops @ 2.5 hours each
Individual Workshops
1 workshop @ 2.5 hours | $170
1 workshop @ 5 hours (full day) | $310
*Priority is given to schools with multiple bookings