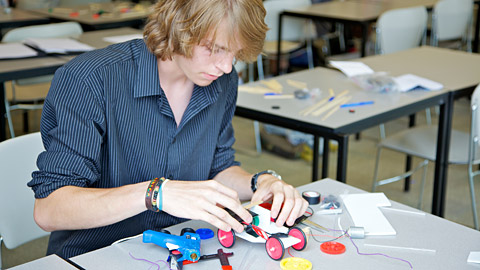 Organized by the University of Toronto's Faculty of Applied Science & Engineering, DEEP Summer Academy offers a diverse range of pre-university engineering and science courses.
In 2017, DEEP Summer Academy will run from July 10 – August 4 at U of T's St. George Campus, located in downtown Toronto.
Registration for DEEP 2017 is now closed and applications are currently under review. Thank you too all who applied.

DEEP 2017 Dates:
Week 1: July 10 -14, 2017
Week 2: July 17 – 21, 2017
Week 3: July 24 – 28, 2017
Week 4 | Design & Innovation Week: July 31 – August 4, 2017
To get a notification when the registration opens:
join our mailing list
DEEP Course Information
Course Information
DEEP courses tackle some of the most interesting and innovative topics being studied within the fields of engineering, technology, applied science and business. Design & Innovation Week, which runs during Week 4, offers capstone courses that challenge students to put their knowledge to the test by tackling real-world engineering design projects.
Each course is one week long. The program is flexible; students can choose to attend one, two, three or four weeks of DEEP. In addition to our on-campus program, we also offer a one-week outdoor leadership camp option. DEEP Leadership Camp runs concurrently with the summer academy.
There are no prerequisites for the courses, with one exception. In order to take a course during Design and Innovation Week in Week 4, students must have taken at least one course or participated in Leadership Camp during the first three weeks of DEEP.
Sample Course Structure
DEEP courses start at 9:30 am and end at 3:30 pm from Monday to Friday with a one-hour lunch break. Each DEEP course includes lectures, design projects and laboratory experiments. While courses do not have mandatory homework assignments or tests, optional assignments and readings may be included.
Monday

Tuesday

Wednesday

Thursday

Friday

Arrival:
8:45 am – 9:00 am

Opening ceremonies: 9:00 am – 9:30 am

Class:
9:30 am – 12:00 pm

Class: 9:30 am – 12:00 pm

Class: 9:30 am – 12:00 pm

Class: 9:30 am – 12:00 pm

Class: 9:30am – 12:00 pm

Lunch:
12:00 pm – 1:00 pm

Lunch: 12:00 pm – 1:00 pm

Lunch: 12:00 pm – 1:00 pm

Lunch: 12:00 pm – 1:00 pm

Lunch: 12:00 pm – 1:00 pm

Class: 1:00 pm – 3:30 pm

Class: 1:00 pm – 3:30 pm

Class: 1:00 pm – 3:30 pm

Class: 1:00 pm – 3:30 pm

Class: 1:00 pm – 3:30 pm

ACEs
ACEs
ACEs
Residence

Students who live in residence during their time at DEEP have the opportunity to explore the best of what the University of Toronto and the City of Toronto have to offer. Join other DEEP students in fun on- and off-campus activities. Please note that living in residence during DEEP is completely optional.

Learn more about the DEEP Summer Academy's residence here.

DEEP Summer Academy is proud to announce that participation in the residence option of our program now qualifies for the Residential Project requirement of the Gold Award of the Duke of Edinburgh's Award.

The award currently runs in 130 countries worldwide and to date 7 million young people have participated. The Duke of Edinburgh's Award was founded in 1956 by His Royal Highness The Prince Philip Duke of Edinburgh to help young people develop a sense of responsibility to themselves and their communities.

Details about the Duke of Edinburgh's Award can be found at www.dukeofed.org.
Additional Information

DEEP courses take a hands-on approach to science, engineering, technology and business. In many of your courses, you will listen to fascinating lectures, engage in interesting discussion and debate, work through engineering problems, construct design projects, and conduct laboratory experiments. You will also be exposed to some of the cutting-edge research being conducted at one of the world's finest engineering faculties. In this section, you will find information about Toronto and the university.
Welcome to Toronto and the University of Toronto

Toronto is Canada's economic engine, with its 6th largest government and one of the worlds most diverse and multicultural populations. Situated 566 feet above sea level on the northern shore of Lake Ontario (part of the Great Lakes system), Toronto is one of the southernmost cities in Canada. Home to more than 100 cultures, Toronto truly is "the world within a city." With a population of 4.2 million, Toronto is the 5th largest city in North America. There are two official languages in Canada – English and French. In addition to these official languages, the top 5 languages spoken in Toronto are Mandarin Chinese, Italian, Portuguese, Tamil and Spanish. While cold in the winter, Toronto summers are notoriously hot and humid, so come prepared for the sizzling heat! Founded is 1827, the University of Toronto is Canada's most important research institution and has gained an international reputation for both its teaching and research. It enrolls more students, employs more faculty and offers a greater range of courses than any other Canadian university. A hub for intellectual inquiry, close-knit learning communities, and one of the world's most highly regarded universities, the University of Toronto is committed to being an internationally significant research university, with undergraduate, graduate, and professional programs of excellent quality.
Engineering at U of T Welcomes You

The Faculty of Applied Science and Engineering at the University of Toronto is a centre of immense inspiration, remarkable innovation and endless possibilities. Established in 1873, the Engineering Faculty has earned an international reputation for excellence in education and knowledge creation and is known as a forward-thinking resource to address world concerns. With a focus on interactive and collaborative research, the U of T Engineering curriculum reflects global needs in every way. Our graduates are leaders in pinnacle companies across the globe spanning diverse industries and professions. Our students and professors come together to share knowledge and benefit from a progressive environment where great ideas and innovations are born. U of T Engineering is one of the most highly regarded engineering schools in the world, and the very best one in Canada. The innovation and professional contributions of our Faculty have been recognized with top awards, including the prestigious Killam Prize, Killam Fellowship, KAUST grant, in addition to nationally celebrated teaching awards such as the 3M National Teaching Fellowship, and the Alan Blizzard Award for collaboration in teaching.
The staff at DEEP Summer Academy and the Engineering Outreach Office welcome you to the Faculty of Applied Science & Engineering at the University of Toronto!