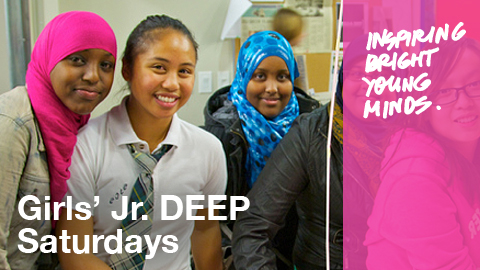 Girls' Jr. DEEP Saturdays is a hands-on science and engineering program for girls in grades 3 to 8.
Dates: Saturday, October 21, 28, November 4
Time: 1pm-4pm
Grades: 3 to 8 (Girls Only)
Price: $175
To register for the program click here!*
*Link will be active on Tuesday, September 26 2017 at 7am
Fall 2017 Topics
Channeling Water: Why & How?
Students will become civil engineers for the day and consider how access to clean water varies among Canadians and collaborate to develop a response to this issue. In groups, students will design and prototype complex water irrigation systems to move clean water across diverse landscapes and to remote locations. They will learn that it is imperative for all Canadians to have access to suitable drinking water and a waste management infrastructure!
Engineering Disciplines: Civil Engineering

Light Up The Dance Floor!
Technology is practical, but it can also be fun! Students will design and prototype their very own dance pads that emit a sound or light-up upon each step. Students will better understand the concepts of electricity, and discover new and alternative real-world applications. Students will work with a variety of materials to develop a functioning dance pad, and they will learn how to approach projects like an engineer!
 Engineering Disciplines: Electrical Engineering
Mystery of the Macromolecules
A crime has been committed, and the only evidence left behind are the crumbs! Students will learn how food is engineered, and understand its most basic chemical building blocks—the macromolecules! They will conduct various chemical tests on the clues left at the scene of the crime and compare their results with what the suspects ate for lunch! After careful analysis, students will work to bring the true culprit to justice and will consider science as practical and inextricable from other fields, such as the justice system.
Engineering Disciplines: Chemical Engineering
Program Information
Girls' Jr. DEEP Saturdays encourages female students to explore science, engineering and technology in a confidence-building environment. Our instructors, guest speakers and mentors are successful women in science and engineering, serving as wonderful inspiration for your daughter.
Each Saturday session includes fun, discovery-based science and engineering activities. In previous years, participants built roller coasters and rockets, explored coding and designed hydraulic arms.
Each of the fall and winter programs consists of three sessions held on consecutive Saturdays. We offer a brand new age- and grade-appropriate curriculum each term so students can attend year-round.
For more information, please contact us at: outreach@ecf.utoronto.ca or (416) 946-0816.