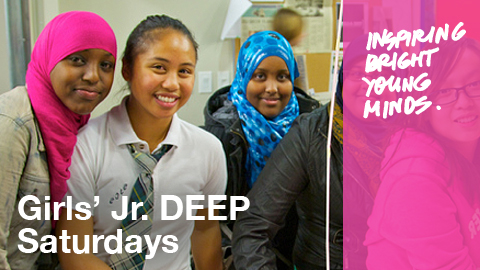 Girls' Jr. DEEP Saturdays is a hands-on science and engineering program for girls in grades 3 to 8.
Dates:
Saturday, January 13th, 20th, 27th
Cost:
$175
Schedule:
12:00pm – 1:00pm | Drop-off/Registration
1:00pm – 4:00pm | Program time
4:00pm – 4:30pm | Pick-up
Winter 2018 Topics
Echo-Housing: Engineering for the World
Students will investigate how engineers must consider the environmental impact humanity has when designing homes that are sustainable and ecologically friendly. They will explore how to build sustainable housing for the future where people live in houses made from more environmentally considerate materials. While considering the cost of recycling materials versus using new and expensive materials, they will evaluate the effectiveness of sustainable housing and the overall impact resource management has on the environment by building model, eco-friendly houses themselves!
Engineering Connection: Civil Engineering, Environmental Engineering

Vital Transportation: The Mechanics of Speed & Flight
Whether designing an airplane or a car for maximum speed, aerospace engineers must consider what forces are acting on a vehicle, and how to best reduce drag. This workshop will have students construct aerodynamic vehicles that demonstrate the mechanics that allow for maximum velocity. They will consider how the motion of air and dynamics of gas flow apply to the study of motion and the speed of vehicles and put their designs to the test!
Engineering Connection: Aerospace Engineering, Mechanical Engineering
Atomic Constructions: Building the Fundamentals
This workshop will have students take a closer look at the periodic table of elements and learn more about the atomic structures that make up all matter that fills our world. They will develop an understanding for the significance of how the table is arranged, while also being exposed to the components that compromise atoms. They will learn to discern between different elements and their behaviors by building 3D models of various atoms while identifying key structural components.
Engineering Connection: Chemical Engineering

Program Information
Girls' Jr. DEEP Saturdays encourages female students to explore science, engineering and technology in a confidence-building environment. Our instructors, guest speakers and mentors are successful women in science and engineering, serving as wonderful inspiration for your daughter.
Each Saturday session includes fun, discovery-based science and engineering activities. In previous years, participants built roller coasters and rockets, explored coding and designed hydraulic arms.
Each of the fall and winter programs consists of three sessions held on consecutive Saturdays. We offer a brand new age- and grade-appropriate curriculum each term so students can attend year-round.
For more information, please contact us at: outreach@ecf.utoronto.ca or (416) 946-0816.