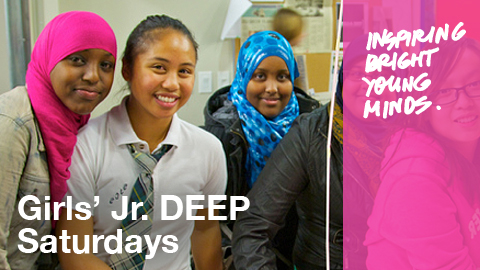 Registration date for the Winter 2017 will be Wednesday December 7th at 7:00am
Girls' Jr. DEEP Saturdays
Girls' Jr. DEEP Saturdays is a hands-on science and engineering program for girls in grades 3 to 8.
Dates: January 14, 21, 28
Time: 1:00 – 4:00 p.m.
Grades: 3 to 8 (Girls Only)
Price: $100
To register for the program click here!*
*Registration link will be active on Wednesday December 7th at 7:00am
Winter 2017 Topics
Healthy Hearts: The Science of Bloodflow
Have you ever wondered how your blood is pumped through your heart?
In this activity, students will learn about the pathway blood travels in the heart in order to reach every blood vessel in their body. They will assume the role of biomedical engineers and construct heart valves that can restore one-way blood flow.
Engineering Disciplines: Biomedical Engineering

Cool Chemistry: Elements & Compounds
From the food we eat to the fuel in our cars, chemistry, chemical reactions, and the composition of materials play an integral role in our everyday lives. In this class, students will learn about elements, how they come together to form new materials, and where and how we use them in a variety of fields, from biomedical engineering to computer engineering. Students will learn the difference between different types of reactions, how to identify them, and why they occur.
 Engineering Disciplines: Materials Science, Chemical Engineering
Optical Illusions: Relfection & Refraction
In this class, students will get the opportunity to learn about the science of light, optics. The students will engage in various activities that explore basic concepts of light and colour, and physical laws of reflection and refraction. Students will also learn about applications of optics in science and engineering and will then get a chance to apply what they learned by designing and making their very own kaleidoscope!
Engineering Disciplines: Industrial Engineering, Materials Science
Program Information
Girls' Jr. DEEP Saturdays encourages female students to explore science, engineering and technology in a confidence-building environment. Our instructors, guest speakers and mentors are successful women in science and engineering, serving as wonderful inspiration for your daughter.
Each Saturday session includes fun, discovery-based science and engineering activities. In previous years, participants built roller coasters and rockets, explored coding and designed hydraulic arms.
Each of the fall and winter programs consists of three sessions held on consecutive Saturdays. We offer a brand new age- and grade-appropriate curriculum each term so students can attend year-round.
For more information, please contact us at: outreach@ecf.utoronto.ca or (416) 946-0816.