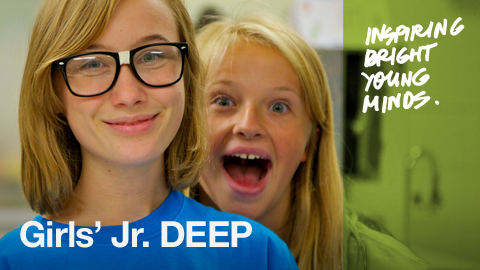 Registration for the Girls' Jr. DEEP program will open in Spring, 2018.
To get a notification regarding upcoming programs, click here to join our mailing list.
Girls with an interest in science and engineering will thrive in Girls' Jr. DEEP! This one-week course will inspire students to tackle fun and fascinating activities and challenges. Participants will conduct experiments, work on engineering design projects and collaborate in an all-girls environment, taught by some of the most amazing female engineering students at U of T!
The program is open to female students currently in grades 3 to 8 (2017-2018 school year).
Program at a glance:
Dates: July 10 – July 14
Cost: $325
Time: 9 am to 4 pm
Supervision: We offer supervision from 8 to 9 am and 4 to 5 pm at no additional charge.
Location: University of Toronto, St. George Campus (College and St. George)
More information: 416-946-0816 or outreach@ecf.utoronto.ca