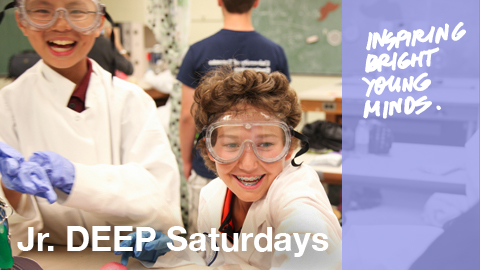 Registration for the Winter 2017 Programs open on December 7th at 7:00am
Dates: February 4, 11, 25
Time: 1:00 – 4:00 p.m.
Grades: 3 to 8
Price: $175
To register for the program click here!*
*Registration link will be active on Wednesday, December 7th at 7:00am
Jr. DEEP Saturdays

Jr. DEEP Saturdays is a program for students in grades 3 to 8 who have a desire to explore science, engineering, math and technology in challenging and creative ways.
Winter 2017 Topics
Wild Weather
Why does it rain? Why do some places get many tornadoes, and other places none? In this course, students will explore why different weather events occur, how scientists can predict them, and what we can learn from these events. They'll learn about how the varying climates and geographies of Earth play a role in the types of weather an area will experience, and how Earth's weather is totally unlike other planets in the solar system! Students will also get to make their own weather instruments and observe the weather around them.
Engineering Disciplines: Chemical Engineering

Kidney Trouble: Function & Filtration
How is waste processed in our bodies?
This activity will look into the filtering powers of the kidney and how dialysis mimics these same principles when kidney functions are disrupted. The students will also understand the roles sugar, salt, water and hormones play in the balance of our endocrine system. 
Engineering Disciplines: Biomedical Engineering

Archaeology as a Bridge
Students will become archaeologists for the day, and conduct their own excavations and analyses. They will practice experimental archaeology to infer upon the past and make connections to present-day technologies and civil engineering strategies. Through these excavations and analyses, they will witness global cultural exchange. Students will then consider how our present global society – its values and its struggles – will be interpreted by future archaeologists.

Engineering Disciplines: Civil Engineering, Industrial Engineering, Materials Science

For more information, please contact us at: outreach@ecf.utoronto.ca or (416) 946-0816.