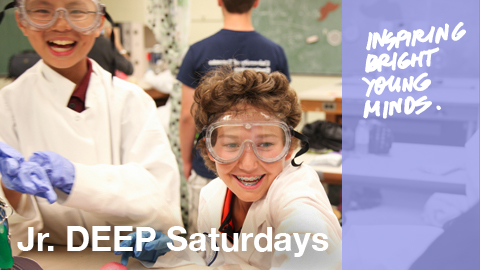 Our Jr. DEEP Saturdays programs run for three consecutive weeks with the topic changing each week. Below are descriptions for the programming. Classes are divided by grade. There will be a class for students in grades 3/4, grades 5/6, and grades 7/8 according to the 2017/2018 school year.
Dates: Saturday, November 11, 18, 25
Time: 1pm-4pm
Price: $175
Fall 2017 Topics
Medical Miracles: Engineering the Perfect Pill
Biomedical engineers are important agents in designing the medicines that we consume to help us feel better when we're ill. It is the duty of the engineer and other scientists to develop and test variations of medicines in order to arrive at a product that produces the highest benefit with the least irritation. In this activity, students will understand the human digestive system, the material properties of common medicine and coating ingredients, and the chemical interactions that occur between these materials when interacting with the digestive system. Students will be required to simulate the digestion of a pill they've designed and evaluate the success of their product.
Engineering Connections: Biomedical Engineering

Watch Your Head!
In this class, students will explore the Laws of Motion and the dire consequences that can sometimes arise if safety protocols are not considered! The students will apply their understanding in the design and testing of a helmet that will protect a person's head from serious injuries. Making a helmet will put students to the test where they will need to take into consideration the structure, material and integrity of the helmet to ensure maximum safety.
Engineering Connections: Biomedical Engineering & Material Science

A Bridge to the Past
The innovations of the past have directed and inspired the present. Students will learn how past architectural, infrastructural, and mechanical marvels have contributed to today's knowledge and design. In this activity, students will have the opportunity to engineer a Pontoon bridge: a type of floating bridge used to cross rivers. Fulfilling the role of young engineers, students will need to take into consideration the maximum weight their pontoon bridge can withstand in order to evaluate the effectiveness of their design.
Engineering Connections: Civil Engineering

To register for the program click here!*
*Link will be active on Tuesday, September 26 2017 at 7am
---
Jr. DEEP Grade 5 Math Saturdays
Students will return for three consecutive Saturdays to learn and apply math concepts that tackle real-world problems.  First, students will play the role of a business owner, and determine their costs, revenue, profit, and loss.  They will be encouraged to restructure their companies to increase profit while also remaining responsible leaders.  On another day, students will work with population statistics to design a public transit system in growing communities.  Using the engineering design process, students will respond to a series of constraints, including details of the landscape and a stringent budget.  On their final day, students will collect and analyze data on local or global crises and develop sustainable policies or solutions that effectively respond to them.  This course is designed to empower students in math, and show them practical uses of math concepts in the world around them.
Dates: Saturday, November 11th, 18th, 25th
Time: 1pm-4pm
Price: $175
Schedule:
12:00pm – 1:00pm | Drop-off/Registration
1:00pm – 4:00pm | Program time
4:00pm – 4:30pm | Pick-up
To Register for Jr. DEEP Grade 5 Math Saturdays click here!
Please note that this program is only available to students in Grade 5 in the current 2017/2018 school year.
For more information, please contact us at: outreach@ecf.utoronto.ca or (416) 946-0816.