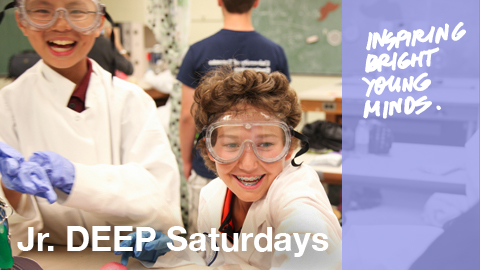 Dates:
Saturday, February 3rd, 10th, 24th
Cost:
$175
Schedule:
12:00pm – 1:00pm | Drop-off/Registration
1:00pm – 4:00pm | Program time
4:00pm – 4:30pm | Pick-up
To register for the Girls' Jr. DEEP, Jr. DEEP, and Jr. DEEP Math Saturdays' program click here!
Winter 2018 Topics
Awesome Automation: Understanding Mechanical Advantage
Automation is the process of making things automatic, and is used in situations where human intervention is either too dangerous, impractical, or impossible. Technology has aided in the creation of engineering marvels, such as robotic arms. This workshop will introduce students to the concept of mechanical advantage, and how machines use it to their advantage to transform moderate forces into enormous ones. Students will then put the concept to the test as they design, build and test their very own mechanical arm.
Engineering Connections: Mechanical Engineering, Industrial Engineering

Hovercrafts & Hydrofoils: How Physics Impacts Design
Hovercrafts are vehicles that glide over a smooth surface by hovering upon a cushion of air. But how is this air cushion made? This workshop will show students how Newton's Laws of Motion apply in the real world while developing an understanding of the nature of air and the effects of pressure changes. They will then use this knowledge to construct model air-cushioned vehicles (ACVs) that utilize known and established designs of hydrofoil technology.
Engineering Connections: Mechanical Engineering, Electrical Engineering

Propeller Propulsion: When Simple Machines Inspire Big Ideas
Simple machines, like levers, pulleys, screws and wedges, are mechanical devices that change the direction or magnitude of an applied force. When combined together in numerous and creative ways, simple machines act as the elementary building blocks for more complicated, or compound machines. This class will have students consider different types of simple machines and imagine how they can be used in conjunction with one another when working to design, build and test model aircraft.
Engineering Connections: Aerospace Engineering, Industrial Engineering

---
Jr. DEEP Grade 4 Math Saturdays
Students will return for three consecutive Saturdays to learn and apply math concepts that tackle real-world problems.  Students will spend their first day exploring the significance of mathematics in business.  As entrepreneurs, students will brainstorm and develop the logistics of developing and running a food truck business.  As a class, we will discuss how to make each food truck profitable and the general attributes necessary to run a successful company.  Our second day will involve a look into the global water crisis. Students will explore the discrepancies faced by many countries with respect to water access and distribution and consider how we can engineer a solution to mitigate the gaps people face.  Students will then have the opportunity to build a water pump to understand the importance of technology in addressing social issues and basic needs.  Our final day will involve an entrepreneurial competition activity where students will be responsible for designing and building a sustainable product.  Students may choose to design and build a new useful product or redesign an existing product to be more sustainable.  Students will then pitch their products to a panel of judges, where each sales pitch will need to consider the consumer group their product is targeted to, their spendable income and other important aspects of design such as safety, suitability for user, and ability to make a profit.
Dates:
Saturday, February 3rd, 10th, 24th
Grade:
Grade 4
Cost:
$175
Schedule:
12:00pm – 1:00pm | Drop-off/Registration
1:00pm – 4:00pm | Program time
4:00pm – 4:30pm | Pick-up
Please note that this program is only available to students in Grade 4 in the current 2017/2018 school year.
For more information, please contact us at: outreach@ecf.utoronto.ca or (416) 946-0816.