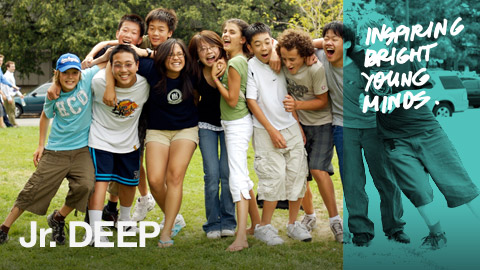 Modelled after our Da Vinci Engineering Enrichment Program (DEEP) Summer Academy for high school students, Jr. DEEP offers courses on cutting-edge topics in science, technology and engineering, with an emphasis on hands-on learning.
We are currently in the process of developing our Jr. DEEP 2018 Summer programs! We hope to have updated information in early Spring.
To receive information on upcoming programs directly, we encourage you to sign up for our mailing list.
2017 Course Descriptions:
*All course information pertains to the Jr. DEEP 2017 Program. We will be offering all new courses for Jr. DEEP 2018 Program.
Grades 3/4
Industrial Innerworks
Have you ever wondered, "How exactly does 'THAT' work!?" In Industrial Innerworks, students will have the opportunity to deconstruct a number of everyday items to analyze the mechanisms that get them to operate. Using simple and complex machines, students will design, build, and market their own products.
Disciplines: Mechanical Engineering, Industrial Engineering, Electrical Engineering, Computer Science.

Fantastic Physics: Acoustics & Optics
Do you know the difference between matter and energy? In this class, students will be gear up for a crash course in physics that explores how matter and energy are related and make up the universe as we know it. They will be introduced to the unique relationship that light shows between particles and waves and learn how its understanding helps lead to further study into subsequent topics such as acoustics, optics, electricity, heat, and radiation.
Disciplines: Mechanical Engineering, Industrial Engineering, Electrical Engineering.

Life Cycles & Mass Extinctions
What do fossils tell us about the past? This course will brief students on the history of life on Earth and the explore the patterns and clues evolution has left behind. Students will learn how changes in Earth's geology and weather have led to cycles of catastrophes that have resulted in numerous extinction events. They will explore and ponder the impact human civilization has as they consider the ecological systems that struggle to coexist, while learning how answers rooted in history can help shape the decisions we make for the future.
Disciplines: Biomedical Engineering, Civil Engineering, Industrial Engineering.

Grades 5/6
Chemistry Alive! Reactants & Products
Students will spend the week in the role of a chemical engineer as this course showcases how chemistry commonly touches our everyday lives. Students will have the opportunity to explore the chemical properties of different materials and learn how they can be utilized while observing and conducting chemical reactions that foster understanding of the molecular changes that occur.
Discipline: Chemical Engineering, Materials Science, Industrial Engineering.

Deep Space Expansion
It's time to find humanity another home! Charting the vastness of space for habitable planets presents a unique challenge, and observation from Earth is limited. This course will present the class with the task of planning a colonization initiative that imagines a group of pioneers leaving Earth to find and colonize a new home. Students will work cooperatively to solve challenges faced by engineers as they attempt to overcome various obstacles along the way.
Disciplines: Electrical Engineering, Mechanical Engineering, Aerospace Engineering, Environmental Engineering.

Sustainable Living & Responsible Design
How can we transform the common household to maximize luxury, accessibility, and efficiency? How might we reduce our household waste? Students will have the opportunity to design and create various household products as well as their ideal homes, while considering residential and infrastructural networks. Their designs will promote equity, as students will look for ways to bridge the current gap in urban living conditions. Students will also take on each initiative as stewards of the environment.
Disciplines: Electrical Engineering, Mechanical Engineering, Civil Engineering, Environmental Engineering.

Grades 7/8
The Cost of Consumerism: A Capstone Course
Students will formulate a research question involving a consumer product of their choice. They will track the production, distribution, and consumption of their products, and map the flow of resources. They will investigate the inefficiencies, injustices, and inequalities that arise in the making and sale of their product, and use their findings to brainstorm possible solutions to these problems. Students will learn essential research skills, techniques for optimizing production and distribution, and how to be responsible consumers.
Disciplines: Materials Science, Industrial Engineering.

Exploring Hyperspace: Relativity & the Quantum Realm
The course aims to explore what makes up the very fabric of our universe. It will introduce students to current research and theory concerning the nature of existence and higher dimensions of space-time. It will look closely at how scientists and engineers team-up to solve some of the most complex questions ever asked, and attempt to unite the theories of quantum mechanics and general relativity.
Disciplines: Industrial Engineering, Electrical Engineering, Aerospace Engineering.

Artificial Intelligence: The Impact of Intelligent Robots
What if computers knew exactly what needed to be done at all times, all on their own? This course will explore a future where artificial intelligence controls our world. Students will have the opportunity to design different intelligent mechanisms that will alleviate human stress and conflict, while also considering other impacts an increasingly mechanized world will have. Our future has potential for such marvels as self-driving cars and machines that will operate on their own to cook and clean, and it is up to us to design that future responsibly.
Disciplines: Electrical Engineering, Mechanical Engineering, Computer Engineering, Coding.

Time: 9:00 am to 4:00 pm
Supervision: We offer supervision from 8 to 9 am and 4 to 5 pm at no additional charge.
Cost: $325 per week
(Please note that this fee is for 2017. We are in the process of finalizing 2018 camp fees.)
Location: University of Toronto, St. George Campus (College and St. George)