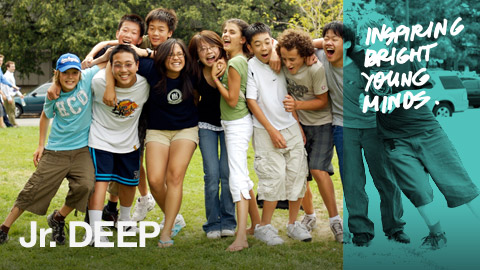 Modelled after our Da Vinci Engineering Enrichment Program (DEEP) Summer Academy for high school students, Jr. DEEP offers courses on cutting-edge topics in science, technology and engineering, with an emphasis on hands-on learning.
Registration for Jr DEEP 2017 will be announced following March Break 2017.
To register for any of our March Break Programs click here!*
* If you are applying for a bursary please use the coupon code BURSARY at check out.
To get a notification when the registration opens, click here to join our mailing list.
2016 Course Descriptions:
Grades 3 + 4 (2015-2016 school year)
Ancient Engineering
The innovations of the past direct and inspire the present! Students will learn how past architectural, infrastructural, and mechanical marvels have contributed to today's knowledge and design. This course will take students to a number of eras and destinations; they will be encouraged to make connections between the past and present, and innovate upon the work of our ancestors. They will look at ancient super structures, mechanisms, and technology, and learn about how historical cultures used science and engineering principles to bring their ideas to life.
Disciplines: Civil Engineering, Mechanical Engineering
Marine Expeditions
Grab your goggles and get ready to explore the deep blue sea! Students will understand how machines work under water and the technology used in underwater operations. This course will survey a number of mechanisms that engineers must design to travel safely underwater, in order to protect themselves and the wildlife around them. They will look at the engineering behind the technology used to explore the ocean, from submarines, to ships, underwater robots, and SCUBA Gear, and the effects such technology has on the environment.
Disciplines: Environmental Engineering, Chemical Engineering, Mechanical Engineering
Roller Coaster Tycoon
Are you ready to create your own theme park? Students will explore the science and engineering behind various theme park rides, while collectively working to create a model amusement park. They will look into the design, building, and testing of amusement park rides, ranging from merry-go-rounds to rollercoasters.
Disciplines: Civil Engineering, Industrial Engineering, Electrical Engineering
Grades 5 + 6 (2015-2016 school year)
EnviroBots!
What if we could save the planet Earth, using robots? Or use a machine to convert waste into energy? How about creating a portable wind turbine? This course will explore how humanity is using robotics and mechanics to tackle environmental issues and challenges. Students will discuss current environmental dilemmas and attempt to engineer solutions using new and existing technology to attempt to reverse the environmental damage done and repair the Earth's ecosystems.
Disciplines: Environmental Engineering, Electrical Engineering, Mechanical Engineering
Crisis Response Unit
STEM fields have an important role in addressing the threats humanity faces around the world. From environmental disasters to humanitarian crises, it is imperative that we bring minds together to design solutions to build better futures. In this course, students will explore the many ways that engineers respond both to local and global crises, and will be encouraged to think critically in order to innovate upon existing solutions. They will also look into the technology and engineering behind rescue and crisis response, from defibrillators, stents, and litters, to fire engines and fire planes.
Disciplines: Biomedical Engineering, Civil Engineering
Mighty Mechanics
Technology can be a wonderful tool to help improve the quality of human life. Or it can be used to make fun robots that duke it out! In either case, simple machines and science are used to create robotics that can improve and enrich our lives. In this course, students will explore simple mechanics and utilize them to create various machines and robots while challenging them to generate and evaluate various solutions for simplifying tasks.
Disciplines: Mechanical Engineering, Industrial Engineering, Electrical Engineering
Grades 7 + 8 (2015-2016 school year)
Crime Scene Forensics
Knowledge leads to justice! Forensic science applies STEM knowledge to infringements on civil and criminal laws. Students will explore various technologies that aid in crime scene investigation and analysis. Make room for the new and improved Sherlocks of the world as students launch an investigation into the processes behind forensic science and laboratory work when solving mysteries and crime.
Disciplines: Biomedical Engineering, Chemical Engineering
Engineering the Final Frontier
Between landing a probe on a comet, and discovering the possibility of a ninth planet in our solar system, exploration of the cosmos continues to be a priority as we wonder how long it will be before we settle on other worlds. As humanity looks to the final frontier, scientists and engineers work endlessly to advance our technology to make the stars within our reach. This course will have students focus on current space technology and the engineering behind shuttles, probes, satellites, terraforming, and colonization, with a look at where we will be in the upcoming decades, and what the possibilities have in store.
Disciplines: Aerospace Engineering, Mechanical Engineering
Game Programming
Video games have become more mainstream than ever as technology continues to improve and we integrate them into our lives for reasons beyond the realm of entertainment. In this coding course, students will focus on game building and development with the goals of creating their own functioning video games with educational value that they can then play and modify. They will be introduced to various coding languages that help them decide which platform is best, while teaching them the skills necessary to learn what it takes to develop their own video game.
Disciplines: Electrical Engineering, Computer Engineering
Time: 9 am to 4 pm
Supervision: We offer supervision from 8 to 9 am and 4 to 5 pm at no additional charge.
Cost: $300 per week
Location: University of Toronto, St. George Campus (College and St. George)
More information: 416-946-0816 or outreach@ecf.utoronto.ca