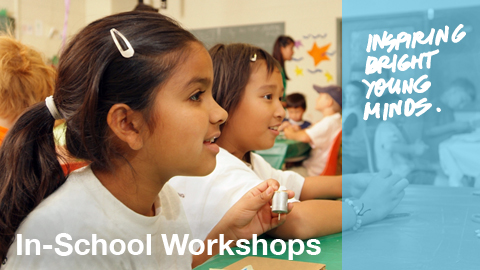 Registration for 2017 In-School Workshops will open in January 2017.
There are two ways to register:
1. Register for In-School Workshops online.
2. Download the In-School Workshops brochure and registration form.
This year, we will offer workshops for grade 3-8 classes and groups in May and June of 2016.
Our workshops complement and expand on the Ontario science curriculum. Instructors use discovery-based activities to highlight topics in science, technology, engineering and math (STEM).
For more information, contact us at workshop@ecf.utoronto.ca or 416-946-0816.
Join our educator mailing list for program info and updates:
Inspire your students—book an In-School Workshop today!
Five easy steps to reserve a workshop for your class:
1. Download the In-School Workshops brochure and registration form or register online.
2. Select the workshop or workshops you would like your class to participate in. You can register multiple classes at the same time.
3. When completing your registration, be sure to indicate your contact and group information, your selected workshops and your requested event dates.
4. Submit your registration online or email your form to workshop@ecf.utoronto.ca.
5. A confirmation and invoice will be sent to you when your workshop has been scheduled.
Class Size
Each workshop is normally limited to a maximum of 30 students. If there are more than 30 students in your class, however, we will do our best to accommodate you. Please contact us at 416-978-3872 or workshop@ecf.utoronto.ca if your class has more than 30 students.
Cost
Booking In-School Workshops with other teachers in your school is the most cost-effective way to bring this enriching program to your classroom. Packages can be split among different grade levels and classrooms (maximum 30 students per workshop) within your school, but all workshops must occur on the same day.
School Package I: Full-Day | $1700
12 workshops @ 2.5 hours each
School Package II: Half-Day | $875
6 workshops @ 2.5 hours each
Individual Workshops| $170
1 workshop @ 2.5 hours
*Priority is given to schools with multiple bookings