Organized by the University of Toronto's Faculty of Applied Science & Engineering, DEEP offers a diverse range of pre-university engineering and science courses.
Inspiring Bright Young Minds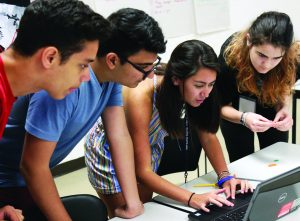 The Da Vinci Engineering Enrichment Program (DEEP) is designed for highly motivated high school students with an aptitude for science and math. DEEP provides students from around the world with the opportunity for advanced study in a variety of engineering, technology, business, and science disciplines.
Since its inception in 2003, DEEP has brought together over 10,000 like-minded students to explore some of the most innovative topics in engineering and science today—taught by some of our faculty's top alumni, PhD candidates, and Master's and undergraduate students. The program is designed to expose bright young minds to concepts usually presented in the upper years of an undergraduate degree or in graduate school.
Get a head start on exploring your options for a university degree and career. Complement your current academic studies with this unique engineering experience.
Eligibility
Grade 9–12 students (2021–2022 academic year) 
The residence program will not be offered in 2022. We hope to bring back the residence program in 2023. Stay tuned!
Applications for DEEP Summer Academy 2022 are closed.
DEEP Courses are offered within six streams. Under each stream heading, course descriptions can be found by selecting the course name.
The grade level(s) and the week(s) each course is being offered can be found to the right of the course name. 
Course eligibility is calculated based on the student's grade as of the 2021–22 school year.
Programming will take place from 9:30–3:30 PM ET. Please note: only one course can be taken each week. 

Week 1: July 4–8, 2022
Week 2: July 11–15, 2022
Week 3: July 18–22, 2022
Week 4: July 25–29, 2022
Brilliant Manufacturing Processess (BMP)
Designing Our Cities (DOC)
Experimenting with Elements (EXE)
Health Technologies and Pharmaceutical (PHP)
Intelligent Computing Operations (ICO)
Physics and Dynamics Fundamentals (PDF)
Research in Autonomous Robots (RAR)
Applications for DEEP Summer Academy 2022 are closed.
---
HOW TO APPLY
Step #1: Email

outreach@engineering.utoronto.ca with:
The name of the course(s) of interest. Please note that only applications noting courses with current availability will be considered.

Attach supplementary documents:
A

recent report card or unofficial transcript 

showing the most recent or final grades from in-progress or completed science and math courses.

A

statement of interest

(a short essay explaining why you want to attend DEEP).
A $50 application fee will be charged to post-deadline applications when assessed.
Incomplete applications will not be evaluated. Application fees for incomplete applications will not be refunded.
Step #2: Wait to hear the results of your application.
Applications will be reviewed on a rolling basis. Applicants can expect to learn the outcome of their application approximately two weeks from submission of application form, transcript/report card, and statement of interest. 
Students who have been admitted into the program will receive instructions for next steps including course selection and registration.
---
Course selection for admitted students:
Read the course descriptions to inform your course selections. Please note: only one course can be taken each week. 
Registration for each course is only secured when you have completed the online course-registration form, and made the $50 per-course, non-refundable deposit.
Course eligibility is calculated based on the most recent grade completed in the 2021-2022 school year.
The deadline for payment of outstanding balances is 10 days prior to the start of each course. Any unpaid registrations will be released on this date.
Creating an Active Account:
If this is your first time registering for one of our programs, you will be prompted to create an Active account as you register. If you are successful in getting a spot in the workshop, your spot will be held for you as you complete the registration form, so no need to rush.
Please note that it is not possible to create an account before the applications are open.
TUITION FEES
Tuition for Domestic students is $550 per week.
Tuition for International students is $845 per week.
A $225 discount is applied after registration to any student who registers for all four weeks.
Bursary Application
Bursaries are available to Canadian citizens, permanent residents and protected persons who demonstrate financial need. To find out more about our bursary application process and to apply, please click here.
To ensure that the highest number of students have the opportunity to attend DEEP, we are currently forecasting that we will be able to provide bursary support for up to 2 courses per recipient.
Cancellation Policy
DEEP Application Fees are non-refundable.
A $50 non-refundable deposit for each registration, per course, is due at time of course registration. The balance of tuition will be due 10 days prior to the start of each course.
The residence program will not be offered in 2022.
The Engineering Outreach Office is following the COVID-19 guidance laid out by the University of Toronto.  Please see UTogether for the most up-to-date information. As the University determines procedure and policy for the summer term we will update participants prior to the program start date (with as much notice as possible).
Deep Summer Academy will be taking place in-person, at the St. George Campus of the University of Toronto. 
This program is not delivered virtually, or in a hybrid format.  
Applicants must have been in grades 9 to 12 in the 2021–2022 school year to be eligible to apply for DEEP 2022. 
We do not offer a meal plan for DEEP Summer Academy 2022. Students are asked to either bring their own packed lunch or purchase a lunch at a local vendor during the unsupervised lunch period.
Join the Mailing List
Be the first to know about registrations, new programs and important dates!