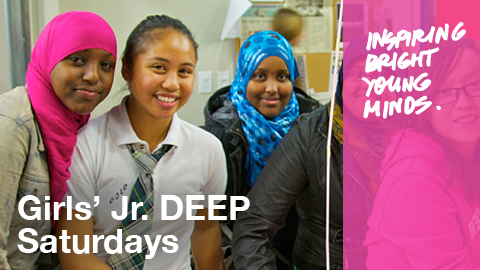 Girls' Jr. DEEP Saturdays is a hands-on science and engineering program for girls in grades 3 to 8. Girls with an interest in science and engineering will thrive in Girls' Jr. DEEP Saturdays!
Our Girls' Jr. DEEP Saturdays programs run for three weeks in length with the topic changing each week. Below are descriptions for the Girls' Jr. DEEP program . Classes are divided by grade – there will be a class for students in grades 3/4, grades 5/6, and grades 7/8 according to the 201/2020 school year. Every participant has the opportunity to participate in all of the activities listed below over the course of the three weeks in no particular order.
We will send you more information about the location and schedule via a pre-program package sent to all participants at least 1 week prior to the start of the program.
Dates:
Saturday, January 18, 2020
Saturday, January 25th, 2020
Saturday, February 8th, 2020
Cost:
$180.00 CAD
Schedule:
12:00pm – 1:00pm | Drop-off/Registration
1:00pm – 4:00pm | Program time
4:00pm – 4:30pm | Pick-up
Click here to register for Girls' Jr. DEEP Saturdays Winter Program!
* Please note that registration will open Tuesday, December 17th at 7:00AM Eastern Time.
Winter 2020 Topics
Living Green!
The 21st century is all about sustainability and Jr. DEEP needs your help in building a sustainable living infrastructure. In this course, students will learn about the different technologies and materials used to increase the sustainability of the structure. They will learn how to reduce the use of energy through renewable energy such as solar panels and be challenged with budgeting materials. After construction, students have the opportunity to improve and redesign so their structure meets all the sustainability goals! 
Engineering Connection: Civil Engineering
Is it a Bird or is it a Plane?
Catapults and airplanes, two decisive inventions for their times that revolutionized humanity. In this course, the physics and engineering behind these contraptions will be applied as students will try to build a catapult that can launch an airplane! Students will learn the basics of mechanical engineering as well as the aerodynamics that keep airplanes airborne. 
Engineering Connection: Civil, Chemical, and Materials Engineering
Replication Race
On your marks… get set… GO! It's time to start the replication race! Students will engage in the beauty of biology, learning about how the cells in their bodies work, replicate, mutate and divide. Concepts like mitosis, DNA, RNA, replication and mutation will be taught to students so that they can participate in a race to simulate the DNA replication process. Ultimately, students will participate in groups against themselves to replicate crafty creations of their own.
Engineering Connection: Biomedical and Genetic Engineering
Program Information
Girls' Jr. DEEP Saturdays encourages female students to explore science, engineering and technology in a confidence-building environment. Our instructors, guest speakers and mentors are successful women in science and engineering, serving as wonderful inspiration for your daughter.
Each Saturday session includes fun, discovery-based science and engineering activities. In previous years, participants built roller coasters and rockets, explored coding and designed hydraulic arms.
Each of the fall and winter programs consists of three sessions held on consecutive Saturdays. We offer a brand new age- and grade-appropriate curriculum each term so students can attend year-round.
Bursary Information
If the fees for this program create a financial barrier, please consider applying for an Engineering Outreach Bursary. You are eligible to apply if you are a Canadian citizen, permanent resident or protected person with demonstrated financial need. If you would like to apply for a bursary, please contact our office prior to registration for your next steps.
When you are applying for a bursary please use the coupon code BURSARY at the check-out screen to bypass payment. Registration
How to apply:
Register for the program you would like to attend and use the coupon code BURSARY 
Download and complete the bursary application form and submit the completed form along with your most recent Notice of Assessment to the email outreach@ecf.utoronto.ca
Once the forms have been submitted to us, we will contact you with the results of bursary in the following weeks prior to the start of the program. Please note that if you are on a waitlist or have not registered for a course, your bursary application will not be assessed.
---
For more information, please contact us at: outreach@ecf.utoronto.ca or (416) 946-0816.