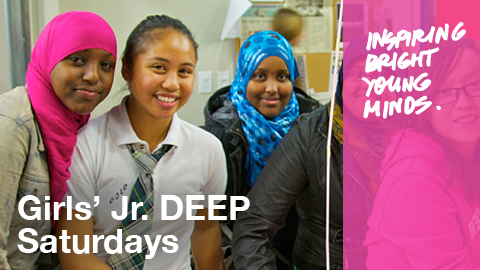 Girls' Jr. DEEP Saturdays is a hands-on science and engineering program for girls in grades 3 to 8. Girls with an interest in science and engineering will thrive in Girls' Jr. DEEP Saturdays!
Our Girls' Jr. DEEP Saturdays programs run for three weeks in length with the topic changing each week. Below are descriptions for the Girls' Jr. DEEP program . Classes are divided by grade – there will be a class for students in grades 3/4, grades 5/6, and grades 7/8 according to the 201/2020 school year. Every participant has the opportunity to participate in all of the activities listed below over the course of the three weeks in no particular order.
We will send you more information about the location and schedule via a pre-program package sent to all participants at least 1 week prior to the start of the program.
Dates:
Saturday, October 19, 2019
Saturday, November 2nd, 2019
Saturday, November 9th, 2019
Cost:
$180.00 CAD
Schedule:
12:00pm – 1:00pm | Drop-off/Registration
1:00pm – 4:00pm | Program time
4:00pm – 4:30pm | Pick-up
Click here to register for Girls' Jr. DEEP Saturdays Fall Program!
* Please note that registration will not be open until Wednesday, October 2nd at 7:00AM Eastern Time.
Fall 2019 Topics
Lights, Mirrors and Mazes!
Light is everywhere. It is what allows our eyes to see the world around us. Light also travels in a straight line. In this class, students will investigate how the path of light can be manipulated by constructing different types of  "light maze" using lenses and mirrors. They will explore concepts such as reflection, refraction, the light spectrum and the various forms that light may take.
Engineering Connection: Electrical Engineering
Engineering the Ecosystems!
In this course, students will explore environments, interconnected systems, and organism interactions by creating a scale model biodome. Students will better understand the concept of energy flow and food chains, basic needs of plants and animals, and the importance of decomposers. By engineering our own communities, students will have a solid understanding of their environment and that the interdependence of an ecosystem can inform the choices we make.
Engineering Connection: Civil and Mineral Engineering
Spotlight on...Action!
Have you ever wondered how a projector is made? This machine has evolved over time but the fundamental concepts remain the same – it is a device that throws light or images on a distance surface for the view of an audience. In this class, students will design and construct a slide projector. They will perform experiments with the projector to see how different types of lenses affect the distance or size of the projected image
Engineering Connection: Electrical Engineering
Program Information
Girls' Jr. DEEP Saturdays encourages female students to explore science, engineering and technology in a confidence-building environment. Our instructors, guest speakers and mentors are successful women in science and engineering, serving as wonderful inspiration for your daughter.
Each Saturday session includes fun, discovery-based science and engineering activities. In previous years, participants built roller coasters and rockets, explored coding and designed hydraulic arms.
Each of the fall and winter programs consists of three sessions held on consecutive Saturdays. We offer a brand new age- and grade-appropriate curriculum each term so students can attend year-round.
Bursary Information
If the fees for this program create a financial barrier, please consider applying for an Engineering Outreach Bursary. You are eligible to apply if you are a Canadian citizen, permanent resident or protected person with demonstrated financial need. If you would like to apply for a bursary, please contact our office prior to registration for your next steps.
When you are applying for a bursary please use the coupon code BURSARY at the check-out screen to bypass payment. Registration
How to apply:
Register for the program you would like to attend and use the coupon code BURSARY 
Download and complete the bursary application form and submit the completed form along with your most recent Notice of Assessment to the email outreach@ecf.utoronto.ca
Once the forms have been submitted to us, we will contact you with the results of bursary in the following weeks prior to the start of the program. Please note that if you are on a waitlist or have not registered for a course, your bursary application will not be assessed.
---
For more information, please contact us at: outreach@ecf.utoronto.ca or (416) 946-0816.