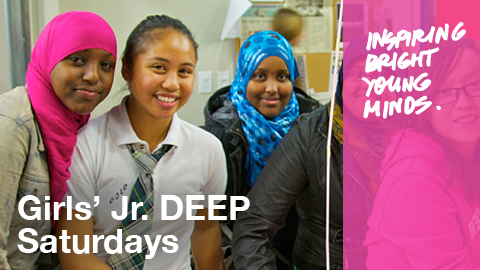 Girls' Jr. DEEP Saturdays is a hands-on science and engineering program for girls in grades 3 to 8. Girls with an interest in science and engineering will thrive in Girls' Jr. DEEP Saturdays!
Our Girls' Jr. DEEP Saturdays programs run for three consecutive weeks with the topic changing each week. Below are descriptions for the Girls' Jr. DEEP program . Classes are divided by grade – there will be a class for students in grades 3/4, grades 5/6, and grades 7/8 according to the 2018/2019 school year. All participants have to opportunity to participate in all of the activities listed below over the course of the three weeks in no particular order.
Dates:
Saturday, October 27, 2018
Saturday, November 3, 2018
Saturday, November 10, 2018
Cost:
$180
Schedule:
12:00pm – 1:00pm | Drop-off/Registration
1:00pm – 4:00pm | Program time
4:00pm – 4:30pm | Pick-up
Click here to register for Girls' Jr. DEEP Saturdays Fall Program!
* Please note that registration will not be open until Wednesday, October 10, 2018 at 7:00 AM.
Fall 2018 Topics
Nervous Systems: Circuits Inside You
Have you ever wondered how our bodies regulate its organ systems? This class will allow students to gain a deeper understanding of how nerves transmit information throughout our bodies by building electrical circuits. Students will then act as biomedical engineers and construct a series of circuits that will act as a prosthetic hand to parallel advancements in the biomedical field such as the ability to connect a prosthetic directly to neurons in the body.
Engineering Connection: Electrical Engineering, Biomedical Engineering

Gravity Powered Machines
This class will focus on developing students' understanding and intuition for engineering physical systems.  Students will work in teams acting as mechanical engineers who are expected to develop a variety of solutions to propel a small KNEX vehicle.  How can falling weights be used to power the forward motion of vehicles?  What other simple machines might be useful?  Team problem solving skills will be put to the test!
Engineering Connection: Mechanical Engineering, Industrial Engineering
A.I. Programming and Our World
This class will introduce students to little robotic gadgets known as Ozobots. They will implement technological problem-solving skills as they work to program their bots to perform various tasks and solve simple problems.  Students will work with basic programming models to teach their Ozobot the most efficient ways to operate, and will engage in discussions about the overall impact new technology has on individuals, society, the economy and the environment.
Engineering Connection: Computer Engineering, Electrical Engineering

Program Information
Girls' Jr. DEEP Saturdays encourages female students to explore science, engineering and technology in a confidence-building environment. Our instructors, guest speakers and mentors are successful women in science and engineering, serving as wonderful inspiration for your daughter.
Each Saturday session includes fun, discovery-based science and engineering activities. In previous years, participants built roller coasters and rockets, explored coding and designed hydraulic arms.
Each of the fall and winter programs consists of three sessions held on consecutive Saturdays. We offer a brand new age- and grade-appropriate curriculum each term so students can attend year-round.
Bursary Information
If the fees for this program create a financial barrier, please consider applying for an Engineering Outreach Bursary. You are eligible to apply if you are a Canadian citizen, permanent resident or protected person with demonstrated financial need. If you would like to apply for a bursary, please contact our office prior to registration for your next steps.
When you are applying for a bursary please use the coupon code BURSARY at the check-out screen to bypass payment. Registration
How to apply:
Register for the program you would like to attend and use the coupon code BURSARY 
Download and complete the bursary application form and submit the completed form along with your most recent Notice of Assessment to the email outreach@ecf.utoronto.ca
Once the forms have been submitted to us, we will contact you with the results of bursary in the following weeks prior to the start of the program. Please note that if you are on a waitlist or have not registered for a course, your bursary application will not be assessed.
---
For more information, please contact us at: outreach@ecf.utoronto.ca or (416) 946-0816.