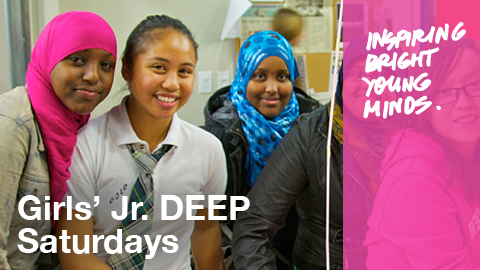 Girls' Jr. DEEP Saturdays is a hands-on science and engineering program for girls in grades 3 to 8. Girls with an interest in science and engineering will thrive in Girls' Jr. DEEP Saturdays!
Our Girls' Jr. DEEP Saturdays programs run for three consecutive weeks with the topic changing each week. Below are descriptions for the Girls' Jr. DEEP program . Classes are divided by grade – there will be a class for students in grades 3/4, grades 5/6, and grades 7/8 according to the 2018/2019 school year. All participants have to opportunity to participate in all of the activities listed below over the course of the three weeks in no particular order.
Dates:
Saturday, January 19, 2019
Saturday, January 26, 2019
Saturday, February 2, 2019
Cost:
$180
Schedule:
12:00pm – 1:00pm | Drop-off/Registration
1:00pm – 4:00pm | Program time
4:00pm – 4:30pm | Pick-up
Click here to register for Girls' Jr. DEEP Saturdays Winter Program!
* Please note that registration will not be open until Tuesday, December 18th at 7:00am.
Winter 2019 Topics
Shock Absorbers: Controlling the Impact
Shock absorbers are devices that reduce impact by taking the kinetic energy and converting it into thermal energy.  In this class, students will experiment with springs, as well as fluids of varying viscosities to observe how each material aids in absorbing shock and reducing impact.  Students will consider the many practical uses of shock absorbers in industry, and develop vehicular models that incorporate what they have learned.
Engineering Connection: Industrial Engineering, Mechanical Engineering

Water Filtration: Filtering Out the Gunk
This class will challenge students to think like engineers, as they work together to improve existing water treatment systems and conceptualize new ones. Students will study filtration and aeration methods for removing pollutants from water. Working in groups, they will employ and execute the engineering design cycle to create prototypes for water filtration devices, while being mindful of addressing real-life constraints, such as availability of materials and cost.
Engineering Connection: Civil Engineering, Chemical Engineering, Environmental Engineering
Valve Replacement Surgery
Did you know that the human heart will beat about 115,000 times each day? While other muscles may need a rest, such is not the case for the mighty heart! In this course, students will learn about the heart, its structures, and the role it plays in human health. They will learn about the valves that allow blood to flow through the heart and explore how human health is affected when the valves in the heart become damaged and defective.  Using engineering principals, students will build a model that demonstrates how the heart operations and functions.
Engineering Connection: Industrial Engineering, Biomedical Engineering

Program Information
Girls' Jr. DEEP Saturdays encourages female students to explore science, engineering and technology in a confidence-building environment. Our instructors, guest speakers and mentors are successful women in science and engineering, serving as wonderful inspiration for your daughter.
Each Saturday session includes fun, discovery-based science and engineering activities. In previous years, participants built roller coasters and rockets, explored coding and designed hydraulic arms.
Each of the fall and winter programs consists of three sessions held on consecutive Saturdays. We offer a brand new age- and grade-appropriate curriculum each term so students can attend year-round.
Bursary Information
If the fees for this program create a financial barrier, please consider applying for an Engineering Outreach Bursary. You are eligible to apply if you are a Canadian citizen, permanent resident or protected person with demonstrated financial need. If you would like to apply for a bursary, please contact our office prior to registration for your next steps.
When you are applying for a bursary please use the coupon code BURSARY at the check-out screen to bypass payment. Registration
How to apply:
Register for the program you would like to attend and use the coupon code BURSARY 
Download and complete the bursary application form and submit the completed form along with your most recent Notice of Assessment to the email outreach@ecf.utoronto.ca
Once the forms have been submitted to us, we will contact you with the results of bursary in the following weeks prior to the start of the program. Please note that if you are on a waitlist or have not registered for a course, your bursary application will not be assessed.
---
For more information, please contact us at: outreach@ecf.utoronto.ca or (416) 946-0816.