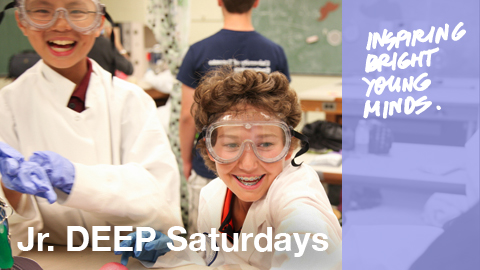 Modelled after our Da Vinci Engineering Enrichment Program (DEEP) Summer Academy for high school students, Jr. DEEP Saturdays offers courses on cutting-edge topics in science, technology and engineering, with an emphasis on hands-on learning.
Our Jr. DEEP Saturdays programs run for three weeks in length with the topic changing each week. Below are descriptions for the  Jr. DEEP Saturdays program . Classes are divided by grade – there will be a class for students in grades 3/4, grades 5/6, and grades 7/8 according to the 2019/2020 school year. All participants have the opportunity to participate in all the activities listed below over the course of the three weeks in no particular order.
We will send you more information about the location and schedule via a pre-program package sent to all participants at least 1 week prior to the start of the program.
Dates:
Saturday, February 22nd, 2020
Saturday, February 29th, 2020
Saturday, March 7th, 2020
Cost:
$180.00 CAD
Schedule:
12:00pm – 1:00pm | Drop-off/Registration
1:00pm – 4:00pm | Program time
4:00pm – 4:30pm | Pick-up
Click here to register for the Jr. DEEP Saturday Winter Program!
* Please note that registration will open Tuesday, December 17th at 7:00AM Eastern Time.
Winter 2020 Topics
Disaster Relief
Someone is calling for help! When disaster strikes, engineers are often called to the scene to rescue victims, keep survivors safe and help get life back on track. In this course, students will learn about an engineer's role in disaster relief and combine mechanical systems, such as levers and pulleys, in order to create their own rescue devices. Time is ticking, supplied are limited, will you get there in time?
Engineering Connections: Mechanical, Industrial, and Civil Engineering
Jr. DEEP... Assemble!
Jr.DEEP has proposed a brand new product that is in high demand and needs your help. You must design and mass-produce the product to satisfy the customers' needs in time. In this course, students will learn about the industrial revolution, product and industrial design, assembly line concepts, and quality control. They will work in teams to design, construct, test, and redesign an assembly line to manufacture a product as quickly and efficiently as possible while also meeting the specified quality control criteria.
Engineering Connections: Industrial Engineering, Manufacturing Process
To Infinity and Beyond!
The universe is a vast expanse, holding limitless mysteries waiting to be discovered. An interesting topic in the field of astronomy is the exploration of extrasolar planets. The search for extraterrestrial life begins with the search for habitable exoplanets and solar systems through the application of various fields of engineering. In this course, students will learn about the mysteries of extrasolar planets and how they came to our attention as well as create their own solar system with their own unique characteristics.
Engineering Connections: Astrophysics, Aerospace Engineering
Bursary Information
If the fees for this program create a financial barrier, please consider applying for an Engineering Outreach Bursary. You are eligible to apply if you are a Canadian citizen, permanent resident or protected person with demonstrated financial need. If you would like to apply for a bursary, please contact our office prior to registration for your next steps.
When you are applying for a bursary please use the coupon code BURSARY at the check-out screen to bypass payment. Registration
How to apply:
Register for the program you would like to attend and use the coupon code BURSARY 
Download and complete the bursary application form and submit the completed form along with your most recent Notice of Assessment to the email outreach@ecf.utoronto.ca
Once the forms have been submitted to us, we will contact you with the results of bursary in the following weeks prior to the start of the program. Please note that if you are on a waitlist or have not registered for a course, your bursary application will not be assessed.
---
For more information, please contact us at: outreach@ecf.utoronto.ca or (416) 946-0816.