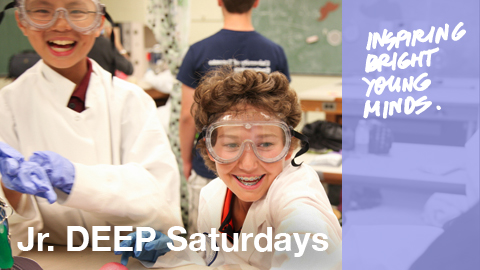 Modelled after our Da Vinci Engineering Enrichment Program (DEEP) Summer Academy for high school students, Jr. DEEP Saturdays offers courses on cutting-edge topics in science, technology and engineering, with an emphasis on hands-on learning.
Our Jr. DEEP Saturdays programs run for three consecutive Saturdays with the topic changing each week. Below are descriptions for the  Jr. DEEP Saturdays program . Classes are divided by grade – there will be a class for students in grades 3/4, grades 5/6, and grades 7/8 according to the 2018/2019 school year. All participants have the opportunity to participate in all the activities listed below over the course of the three weeks in no particular order.
Dates:
Saturday, February 9, 2019
Saturday, February 23, 2019
Saturday, March 2, 2019
Cost:
$180
Schedule:
12:00pm – 1:00pm | Drop-off/Registration
1:00pm – 4:00pm | Program time
4:00pm – 4:30pm | Pick-up
Click here to register for the Jr. DEEP Saturday Winter Program!
* Please note that registration will not be open until Tuesday, December 18th at 7:00am.
Winter 2019 Topics
Assembly Required: A Look at Industrial Engineering
Behind every product lies extensive supply chains and assembly lines that allow our favourite things to be made quickly and efficiently. In this course, students will take a closer look into the simple machines that turn a piece of plastic into something familiar, while focusing on concepts of energy and systems engineering. The students will design and build their own assembly line that builds a simple object to gain a deeper understanding of the engineering design process, and how to maximize production.
Engineering Connections: Industrial Engineering

Toy Robotics: When Parts Come to Life
This class will give students a fun introduction to robotics as they work to create and build their own simple toy bots.  Students will learn about the basics of circuits, motion, and simple machines and discover the crucial roles these concepts play in robotics.  They will work collaboratively to apply this knowledge to design and build the mini bots themselves.
Engineering Connections: Electrical Engineering, Mechanical Engineering, Industrial Engineering

A.I. Programming and Our World
This class will introduce students to little robotic gadgets known as Ozobots. They will implement technological problem-solving skills as they work to program their bots to perform various tasks and solve simple problems.  Students will work with basic programming models to teach their Ozobot the most efficient ways to operate, and will engage in discussions about the overall impact new technology has on individuals, society, the economy and the environment.
Engineering Connections: Computer Engineering, Electrical Engineering

Bursary Information
If the fees for this program create a financial barrier, please consider applying for an Engineering Outreach Bursary. You are eligible to apply if you are a Canadian citizen, permanent resident or protected person with demonstrated financial need. If you would like to apply for a bursary, please contact our office prior to registration for your next steps.
When you are applying for a bursary please use the coupon code BURSARY at the check-out screen to bypass payment. Registration
How to apply:
Register for the program you would like to attend and use the coupon code BURSARY 
Download and complete the bursary application form and submit the completed form along with your most recent Notice of Assessment to the email outreach@ecf.utoronto.ca
Once the forms have been submitted to us, we will contact you with the results of bursary in the following weeks prior to the start of the program. Please note that if you are on a waitlist or have not registered for a course, your bursary application will not be assessed.
---
For more information, please contact us at: outreach@ecf.utoronto.ca or (416) 946-0816.