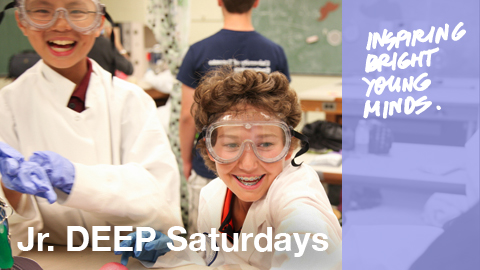 Modelled after our Da Vinci Engineering Enrichment Program (DEEP) Summer Academy for high school students, Jr. DEEP Saturdays offers courses on cutting-edge topics in science, technology and engineering, with an emphasis on hands-on learning.
Our Jr. DEEP Saturdays programs run for three weeks in length with the topic changing each week. Below are descriptions for the  Jr. DEEP Saturdays program . Classes are divided by grade – there will be a class for students in grades 3/4, grades 5/6, and grades 7/8 according to the 2019/2020 school year. All participants have the opportunity to participate in all the activities listed below over the course of the three weeks in no particular order.
We will send you more information about the location and schedule via a pre-program package sent to all participants at least 1 week prior to the start of the program.
Dates:
Saturday, November 16th, 2019
Saturday, November 23rd, 2019
Saturday, November 30th, 2019
Cost:
$180.00 CAD
Schedule:
12:00pm – 1:00pm | Drop-off/Registration
1:00pm – 4:00pm | Program time
4:00pm – 4:30pm | Pick-up
Click here to register for the Jr. DEEP Saturday Fall Program!
* Please note that registration will not be open until Wednesday, October 2nd at 7:00 AM Eastern Time.
Fall 2019 Topics
Operations and Medical Tools
In this class, students will become biomedical engineers in charge of building the most functional and versatile medical tools that surgeons can use to practice surgery. Students will learn about various human anatomy systems and create their own system in the form of a challenge box. As part of the engineering design process, students have the opportunity to test and improve their medical tools on each other's challenge boxes. 
Engineering Connections: Biomedical Engineering
The Great Doghouse Dilemma
Help! A flood is about to arrive and my dog is stuck inside its house! What will you do? Stopping the flood is out of the question so the only solution is to build a flood barrier. In this class, students will experiment with various absorption materials and ways to prevent a flood from damaging their doghouse. Using the engineering design process, students must test their designs and redesign their barriers to create the most effective way to stop the flood!
Engineering Connections: Civil, Chemical and Materials Engineering
Mission Control, We Are Clear for Landing
The year is 2019 and Jr. DEEP needs your help in launching a spacecraft that can land safely at its destination. In this course, students will learn about different forces such as thrust, gravity and drag and Bernoulli's Principle and incorporate them in the design of their spacecraft. They will test how their spacecraft fares when landing and have the opportunity to improve and redesign so their spacecraft meets various goals.
Engineering Connections: Mechanical and Aerospace Engineering
Bursary Information
If the fees for this program create a financial barrier, please consider applying for an Engineering Outreach Bursary. You are eligible to apply if you are a Canadian citizen, permanent resident or protected person with demonstrated financial need. If you would like to apply for a bursary, please contact our office prior to registration for your next steps.
When you are applying for a bursary please use the coupon code BURSARY at the check-out screen to bypass payment. Registration
How to apply:
Register for the program you would like to attend and use the coupon code BURSARY 
Download and complete the bursary application form and submit the completed form along with your most recent Notice of Assessment to the email outreach@ecf.utoronto.ca
Once the forms have been submitted to us, we will contact you with the results of bursary in the following weeks prior to the start of the program. Please note that if you are on a waitlist or have not registered for a course, your bursary application will not be assessed.
---
For more information, please contact us at: outreach@ecf.utoronto.ca or (416) 946-0816.