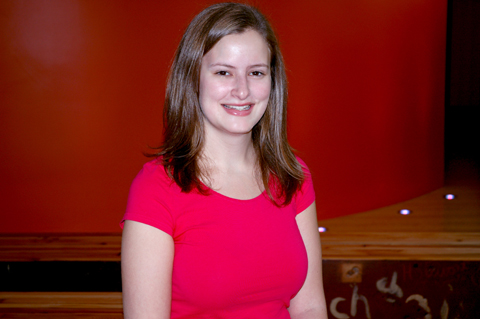 The demand for mineral and mining engineering is  growing—but how do female engineers fit into the picture? Kristin Foster (MinE1T3) shares her story.
What did you want to be when you grew up? For Kristin Foster (MinE1T3) the answer was always clear—she wanted to be a civil engineer. But that all changed when it came time to apply to university. Foster, who was determined to study civil engineering at a university outside of Toronto, decided to apply to the Lassonde Mineral Engineering program at the University of Toronto after much encouragement from her mother, who found the program intriguing.
Now in her third year, Foster is happy she made that decision. "I became interested in mining because there weren't a lot of people into it. I've always been like that—doing things that are outside of the box".  Foster also enjoys the technologically advanced nature of the program. "A lot of people think of Snow White and the Seven Dwarves when they think about mineral engineering. It's not like that at all—it involves very high-tech tools," says Foster. "As mineral engineers, we design the mines that contain all the material needed for everything we do. Buildings, chairs, the floor, they all need metal. Without mineral engineering, you wouldn't have anything."
Mineral engineering is a highly versatile and interdisciplinary field. Graduates have the opportunity to work all around the world or transition into the financial sector. Toronto is regarded as the mining finance capital of the world thanks to the Toronto Stock Exchange, which means students have countless career opportunities available to them right in the city.
Made up of a close-knit group, the Lassonde Mineral Engineering program has 91 students across all four years, with 25 of the current students being female. Statistics have been fairly consistent over the past few years, with women making up 20-30% of the overall program.  Foster feels that there needs to be a strong female perspective in engineering. "It's important for us (women) to have a say in how things are built and how technology advances because we make up half of society.  It's important that we develop our own way of explaining things."
When it comes to career development, the female students in the program have the opportunity to join Women in Mining  (WIM) Canada, a not-for-profit organization that works towards advancing the interests of women in the mineral and mining sectors.  WIM hosts various networking events that are a great way for students to meet successful female engineers.
The ambitious and driven Foster kick-started her career when she did a Professional Experience Year (PEY) at North American Palladium. Stationed on a small mine an hour and a half north of Thunder Bay, Ontario, Foster participated in everything from production blasting, surveying and ventilation to designing mine plants with project managers. "(At first) I was like 'why am I here? I don't know anything about mining. I've only just finished second year.' But then I realized you just have to suck it up and push through it. I was there to learn," she said about her initial days on the job.
Foster and another female PEY student had a two-weeks-on and two-weeks-off schedule, which meant Foster was the only female engineer on-site when it was her turn to work. Although seemingly intimidating, Foster says that she had a supportive and enriching environment where she gained very valuable experience that supplemented her in-class education.  Her cross-shift schedule also allowed her to travel to Disney World, Winnipeg and France during her time off.
Like Foster, many of the female students in the program land PEY and summer jobs in mining companies all over the world. According to Lassonde Administrative Assistant, Teresa Miniaci, the demand for mining engineers is very high, with more jobs available than students graduating. "Get your passport updated," says Miniaci. "If you want to travel and see the world, then it (mineral engineering) is for you." She says many graduates will jet-set and work all over the place for a couple of years before settling down in one place.  "You're not stuck doing one thing—you can really do what you want anywhere because there are opportunities available globally," says Foster.
PEY has really made Foster think about her future career trajectory.  She hopes to work overseas after graduation and then come back to Canada. Her ultimate dream job? "I want to work in the Arctic," she says.
Currently, Foster is focused on completing her degree. In her spare time, she volunteers for various outreach initiatives, including Girls' Science and Engineering Saturdays. She was an instructor during the Fall session, which wrapped up on November 5th.  Foster and her follow instructor, Rezwana Sharmin,  developed and taught engaging activities that were in line with the program's weekly themes. The young girls in their grade seven and eight level class made spaghetti bridges, learned about biomedical engineering and studied heart valves. "I like having the younger generation teach me things," says Foster about the experience.
To learn more about the Lassonde Mineral Engineering Program, please visit the department's website: www.discover.engineering.utoronto.ca/programs/academic-programs/mineral.htm
To learn more about the Professional Experience Year (PEY) Internship Program, please visit:
www.engineeringcareers.utoronto.ca
222 College Street, Suite 106
Telephone: 416-978-3881
Learn more about the Girls' Science and Engineering Saturdays and other outreach activities.